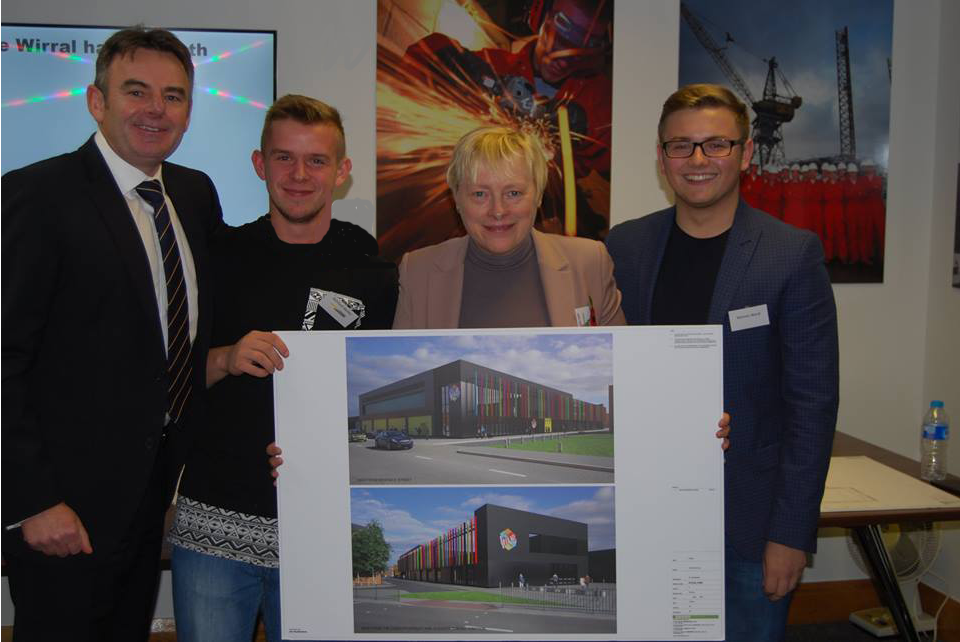 We have been extremely busy over the last few weeks, with two of our board members, joining young people in hosting special events to introduce and promote the Youth Zone project across Wirral.
Last week, Chairman of our Youth Zone, John Syvret CBE, hosted a special lunch event at Wirral's ship-building company Cammell Laird. We were delighted to be joined by representatives of local businesses as well as local Wallasey MP, Angela Eagle – pictured alongside John and young people. John is hugely passionate about making The Hive a reality for Wirral's young people.
Following that, Peter Bibby hosted a dinner at the prestigious Royal Liverpool Golf Club where fifteen guests enjoyed first class hospitality and food. Peter has a long standing commitment to the young people of Wirral. He has been a Director of Birkenhead Youth Club for over 15 years and is now also a Director of the Youth Federation. The Bibby family have provided significant support in progressing the Youth Zone project.
Both events saw members of the OnSide team, as well as our Youth Zone General Manager Stuart Barnes give presentations about this amazing project; the background, the need, the incredible facilities, the range of activities which will be offered and the transformational impact the Hive will have on the young people of Wirral.
The highlight of both presentations, was without doubt however, the contribution from young people themselves. Shannon Green and Ashford Bailey from Mahdlo Youth Zone in Oldham, talked passionately about their involvement and the huge impact their Youth Zone has had on their lives as a result.
Warren Ward and Louis Chantly, local young people from Wirral are members of the young people's steering group and have been involved in the development of The Hive branding. They talked about what they had done including how they helped choose the design and logo. They also talked about their experiences in visiting other OnSide Youth Zones and were able to speak about why they believed this project is so important for Wirral.
Stuart Barnes, General Manager of The Hive said: "I was delighted with the success of both these events. They showcased how a Youth Zone can help young people thrive and achieve their potential and in doing so have helped us to generate valuable support which will contribute to the ongoing success of the project."
Becoming a Founder Patron of The Hive is a chance for the local businesses and philanthropists to create a legacy for the future of Wirral. Their support and endorsement of the project will serve to encourage others to invest in the future of Wirral's young people. For more information about how to get involved please contact: Stuart Barnes on 07734 217916 or email thehive@onsideyouthzones.org