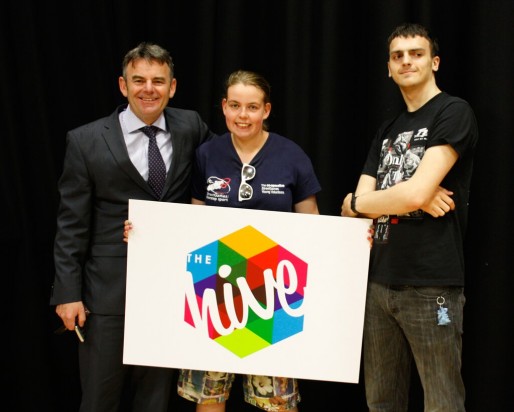 Wirral Youth Zone unveiled its new brand identity of The Hive today, following extensive consultations involving over 300 young people from the borough.
Developed to represent the values young people will attribute to their new Youth Zone, The Hive symbolises adventure and fun for all young people where they can try new experiences and learn new skills.
The Hive will be a place where young people can reach their full potential, grow their dreams and achieve their goals. It will be a safe and supportive community for young people to belong and be themselves.
Expected to open in 2016, the Youth Zone will offer a wide range of activities for young people aged between eight and 19 (25 for those with a disability), including; dance, sport fitness, music and media. The Hive will cost young people just 50p per visit.
Wirral Youth Zone is a new independent charity which will operate to the successful OnSide Youth Zones model. The Youth Zone will cost approximately £6million to build and £1million to run annually. Wirral Council is both a strategic partner and significant funder on the project.
Leading on the brand development, Kyle Roberts, 17, member of the Youth Zone's Young People's Development Group, said: "I've really enjoyed being part of the branding process for the new Youth Zone; not only have I made new friends, but I have been able to learn more about the marketing industry. However most importantly, I feel I've been able to help shape the future of Wirral. The Youth Zone will bring new life into the area and this is fantastic."
Working in partnership with local design agency, Ice Creates, a series of brand consultations have been held across Wirral, with local youth clubs, schools, and dance and drama groups taking part in the decision-making process.
John Syvret CBE, Chief Executive of Cammell Laird Group Ltd and Wirral Youth Zone Chair, commented: "The Hive is for the young people of Wirral, so it is extremely important that they have been able to take ownership of creating their Youth Zone's identity.
We're delighted with the brand they've developed and I am sure this will help everyone start to visualise the fantastic facility that is coming to the area."
Cllr Tony Smith, Wirral Council Cabinet member for Children's Services and Lifelong Learning added: "It's fantastic to see this exciting development really starting to take shape now and to see young people in Wirral so engaged in it every step of the way."
The new Youth Zones is to be built on Exmouth St, adjacent to the new Fire Station, in the centre of Birkenhead.