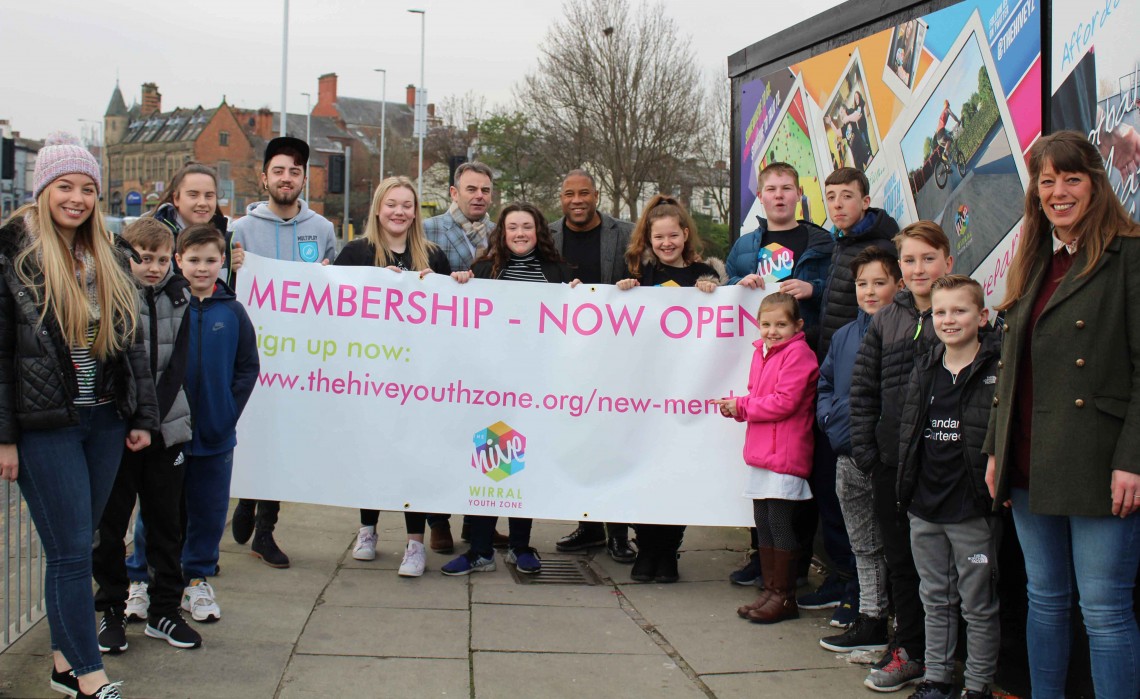 John Barnes inspires first Youth Zone members
Saturday 21st January, saw Youth Zone Ambassador and football legend John Barnes help inspire the first Junior and Senior young members to sign up to the soon to be built, Wirral Youth Zone.
The Hive Youth Zone, opening on April 8th 2017, is well into its 100-day countdown to the big day and the team in Wirral held a membership launch at Birkenhead Fire Station next to the Youth Zone on Bright Street, as interior work draws to completion on the new £6m centre.
Joining ambassador John Barnes was the first Junior member, 8 year old, Eva Easdown and Senior member Natasha Atkins, aged 17, who paid their £5 annual membership to sign up and become the first ever Youth Zone members. The youngsters will now only have to pay 50p per visit meaning they can access up to 20 activities from sports and arts to dance drama and employability workshops once The Hive opens its doors.
YOU CAN SIGN UP AS A MEMBER TOO HERE: WWW.THEHIVEYOUTHZONE.ORG/NEW-MEMBER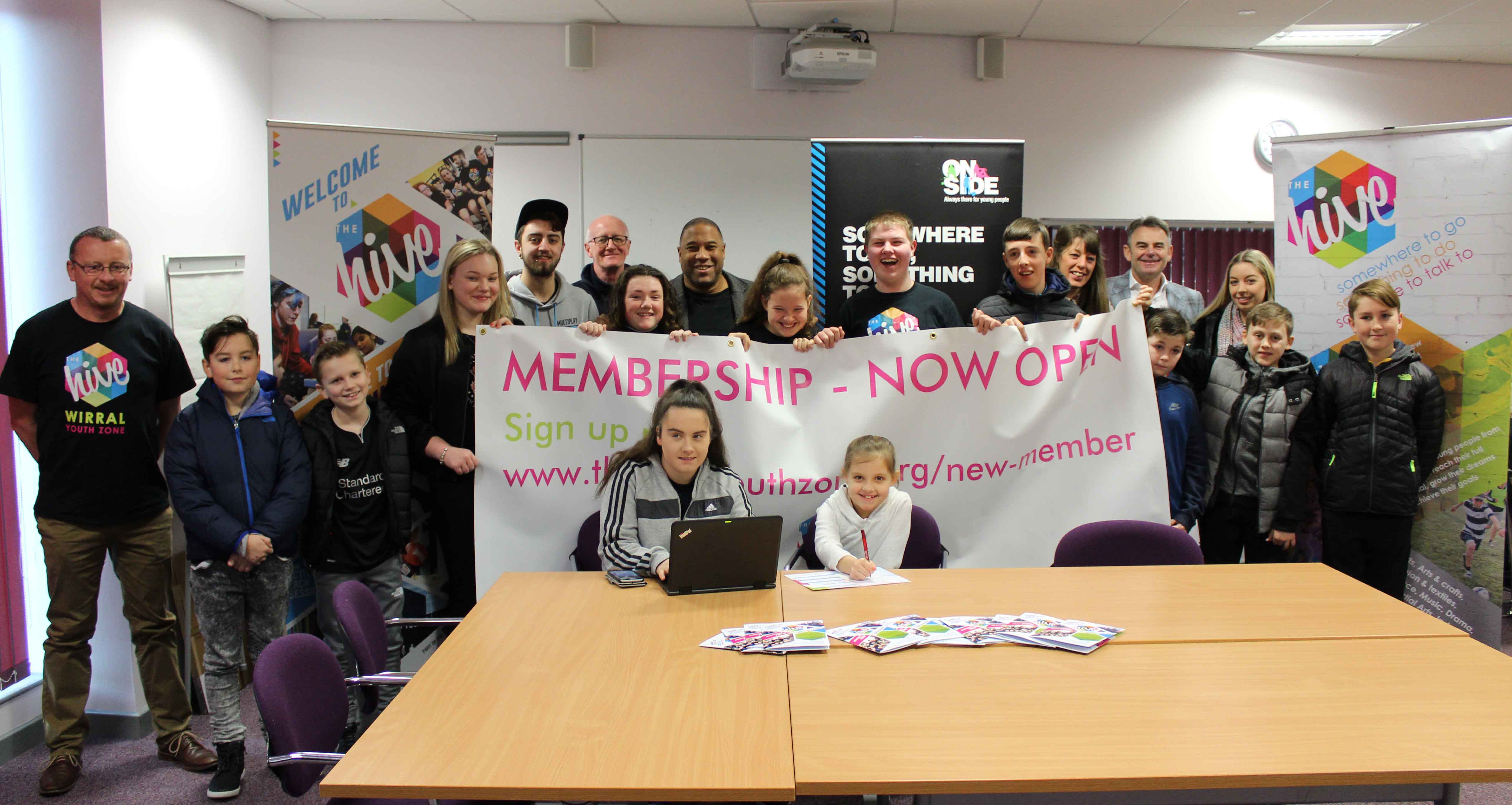 The 77nd day to opening truly marked a day of 'firsts'. As well as John and the first members, the first of 19 Founder Patron's, URENCO Ltd, were joined by the first volunteers, mother and daughter duo Marie Brunt and Annielee Kelly from Birkenhead, the first batch of staff members and Youth Zone Chairman John Syvret CBE. Let's not forget the 'first class' Young People's Development Group too, who have been involved in the process from day one, forming the brand name 'The Hive', recruiting the staff and having their say on the design of the building!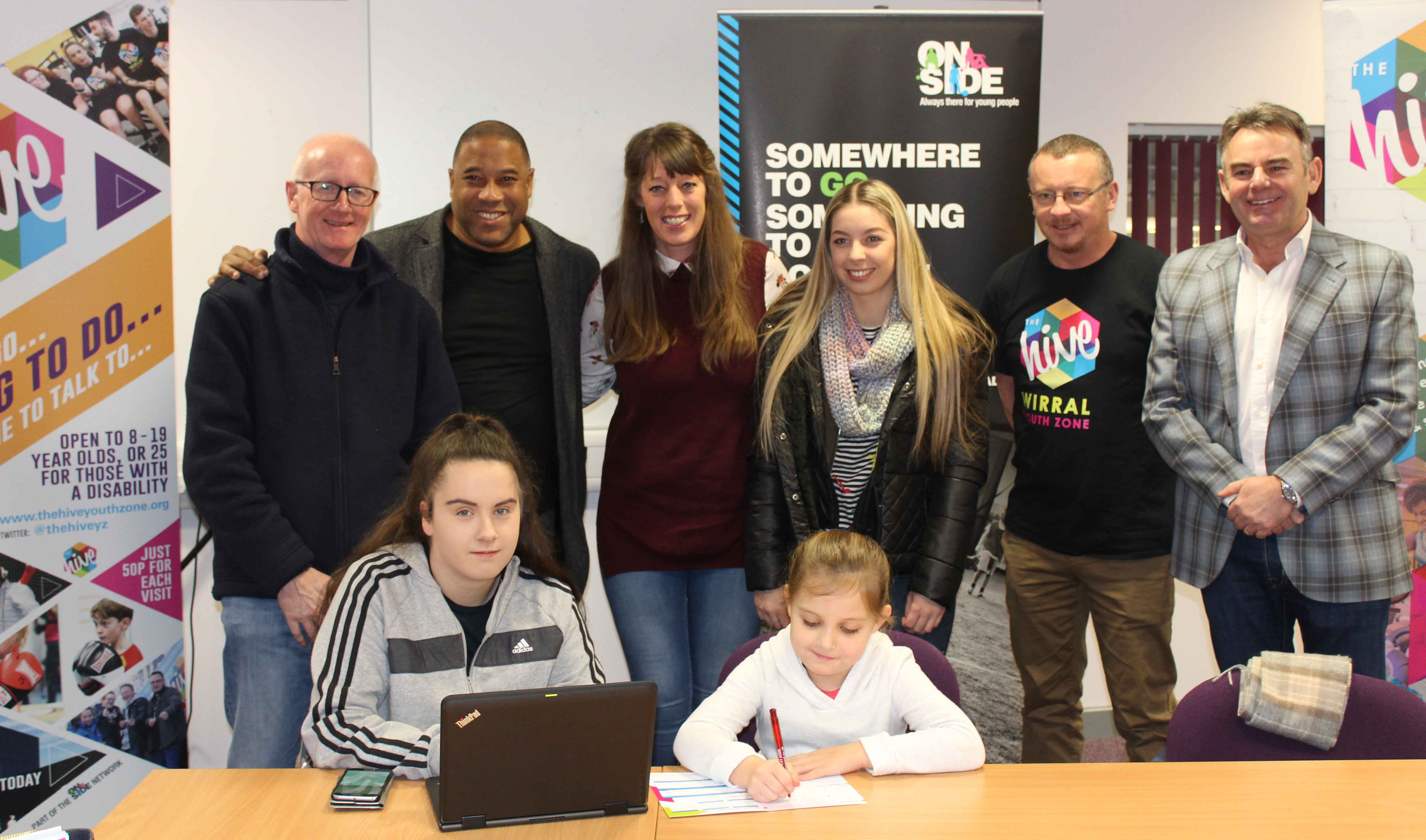 The Hive, Wirral Youth Zone's Chief Executive Stuart Barnes said: "It was fantastic to have both John Barnes and our Chair John Syrvet attend Saturday's membership launch. It was a landmark day in what will be a long and fruitful history of Wirral Youth Zone. I would urge all young people in Wirral to sign up online now by visiting www.thehiveyouthzone.org/new-member and come and get involved in the host of activities on offer come April 8th."
Wirral Youth Zone will offer a multitude of activities and services will help raise the aspirations, improve the health and well-being and enhance the prospects of an anticipated membership of over 3,000 young people across Wirral.
To make this a reality, The Hive needs to recruit 100 dedicated members of the community to make sure they deliver the best service for Wirral's young people. If you have a passion for working with young people or simply want to give a little back by helping out in an admin or kitchen role for example, The Hive want to hear from you, contact Volunteer and Training Manager Sam Curley on: sam.curley@thehiveyouthzone.org.
The Hive will cost £1 million per year to run and this will be through a combination of public sector and private sector funding. 50% of the running costs has virtually been secured through the local business community, but they still need more. Becoming a Founder Patron of The Hive is a chance for the local businesses and philanthropists to make the difference to the lives of young people and the future of a prospering region. Their support and endorsement of the project will lead the way to encourage others to invest in the future of the borough's young people. For more information about how to get involved please contact: Kate Thomas on kate.thomas@thehiveyouthzone.org.
Wirral Youth Zone is an independent charity which will operate to the successful OnSide Youth Zones model. For more information or to sign up as a member visit www.thehiveyouthzone.org/new-member.