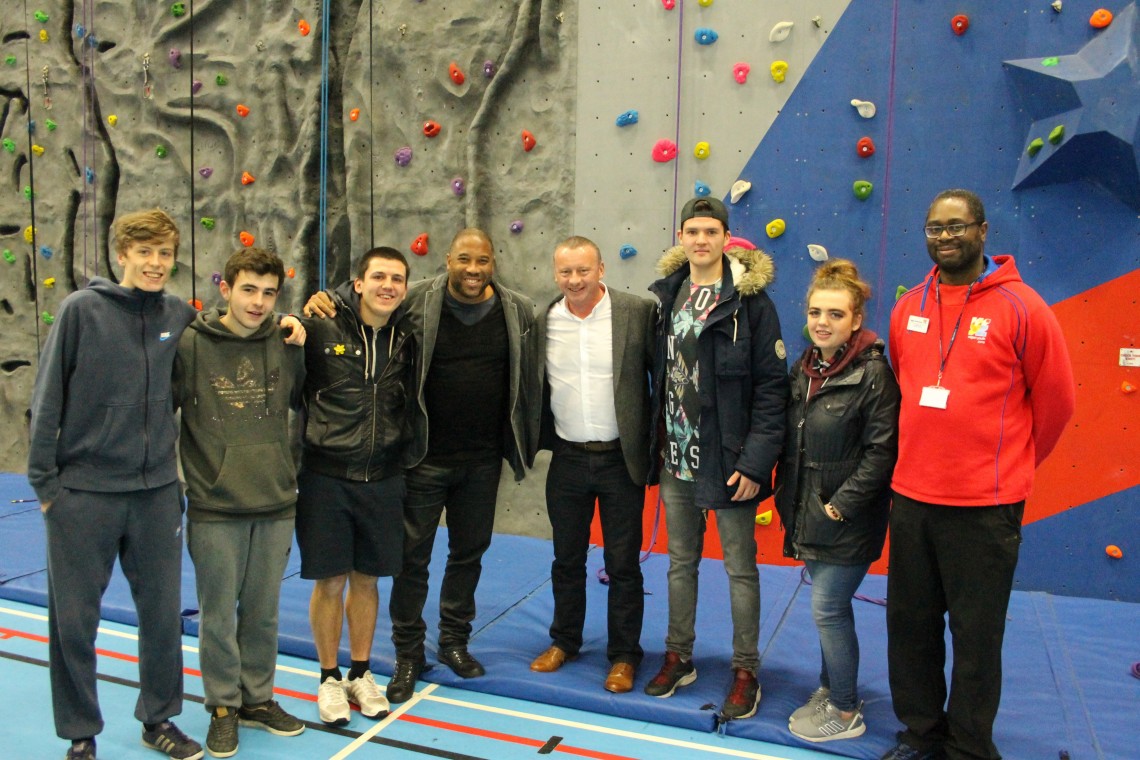 Wirral's young people are in for a goal-fest of action once their new £6million Youth Zone is built, especially now former England and Liverpool FC legend, John Barnes MBE, has agreed to become our Youth Zone Ambassador.
As an admired role model across Merseyside and the footballing world, the endorsement of John Barnes MBE is an important step forward for us as construction work continues and the community unites in support.
John, who has lived in Wirral for over 30 years, visited the site on Exmouth Street yesterday to see how construction was progressing on Wirral's new state-of-the-art £6 million Youth Zone, designed with the needs of young people in mind, which is set to be completed at the end of 2016.
Born and initially raised in Jamaica, John moved to England to take up a playing career at Watford, making his England debut in 1983, before he moved to Liverpool four years later.
John won the top-flight First Division title and the FA Cup twice with Liverpool, scoring 108 goals in 407 matches. At the time of his last appearance for England in 1995 he had been capped 79 times.
The 52-year-old went on to taste football management, coaching Celtic FC as well as both the Jamaican national team in 2008–09 and fellow Merseyside club Tranmere Rovers in 2009.
The English Football Hall of Famer, who is also famed for performing the rap section of New Order's 'World in Motion', is now plying his trade as a football pundit on various television networks. He feels it is imperative to 'give something back' to the youth of today.
John Barnes MBE said: "I'm thrilled to be an ambassador for Merseyside's first Youth Zone in Wirral. I saw Wigan Youth Zone today and I was blown away. Thanks to Dave Whelan's vision and determination, Wigan's young people have somewhere to go, something to do and someone to talk to and I am delighted the youngsters of Merseyside will have their own Youth Zone soon. It will be a fantastic asset for the borough and being a father of seven children, I know how important it is to empower young people. Whilst my kids have been privileged, I understand how vital it is to give opportunities to the less privileged children in order to maximise their full potential." 
Become a Founder Patron of The Hive
Becoming a Founder Patron of The Hive is a chance for the local businesses and philanthropists to create a legacy for the future of Wirral. Their support and endorsement of the project will serve to encourage others to invest in the future of the city's young people. For more information about how to get involved please contact: Stuart Barnes on 07734 217916 or email thehive@onsideyouthzones.org .
Find out more about being part of our Founder Patron Family by clicking here.
Underpinning the revenue funding from The Hive's Founder Patrons is capital investment from Bibby Line Group, The Johnson Foundation, Lord Leverhulme's Charitable Trust, Garfield Weston Foundation, UBS, Linbury Trust, OnSide, The Queen's Trust, St James's Place Foundation, Holroyd Foundation, Wirral Borough Council, Merseyside Fire and Rescue Service and The North West Ambulance Service (NWAS) NHS Trust. Click here to find out more about our Capital Supporters.