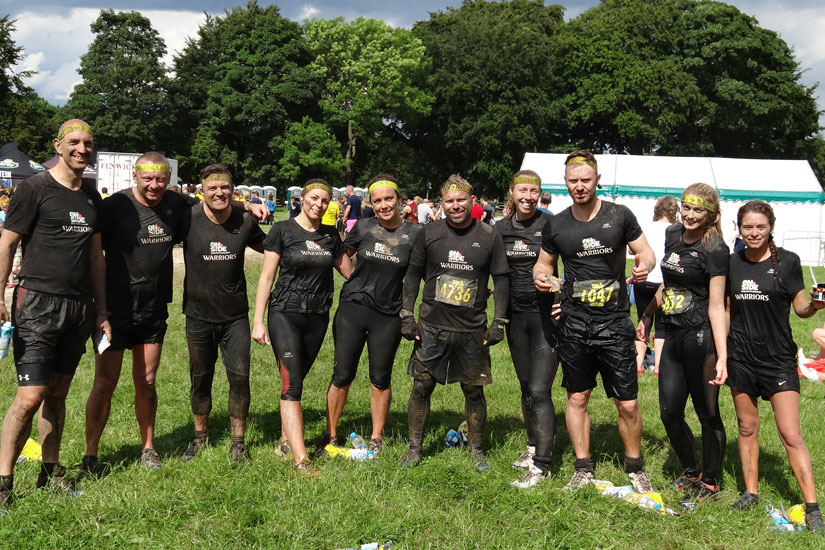 Our General Manager Stuart Barnes and a team of 'OnSide Warriors' took part in the annual Total Warrior 12k obstacle course in Leeds on Saturday and raised over £1,500 for Wirral Youth Zone.
Total Warrior is the pinnacle of obstacle racing, providing the most gruelling (and muddy) obstacle event in the UK. With around 30 punishing obstacles incorporating 10 tons of ice and 100 tons of mud, the course is one to be feared.
'The Plunge' was the most feared – many failed at this point but our team of 10 headed up by Stuart braved a dunk in a skip, 4ft deep filled with water and loaded up with 10 tons of ice, before moving on to 'The Human BBQ', jumping over blazing fire into muddy waters. The team scaled five Everest style walls and even the dreaded 'Shocker' – 100's of electrical wires hanging from above!
Total Warrior provided our team with the ultimate test of stamina, strength and determination, but we are proud to say, despite Stuart and the team putting their bodies through the wars in aid of Wirral's young people, they came out the other side smiling!

You can still show your appreciation by donating here.
If you want to raise money or work in partnership with Wirral Youth Zone contact General Manager Stuart Barnes on 07734 217916 or email TheHive@onsideyouthzones.org. Thank you for your continued support.