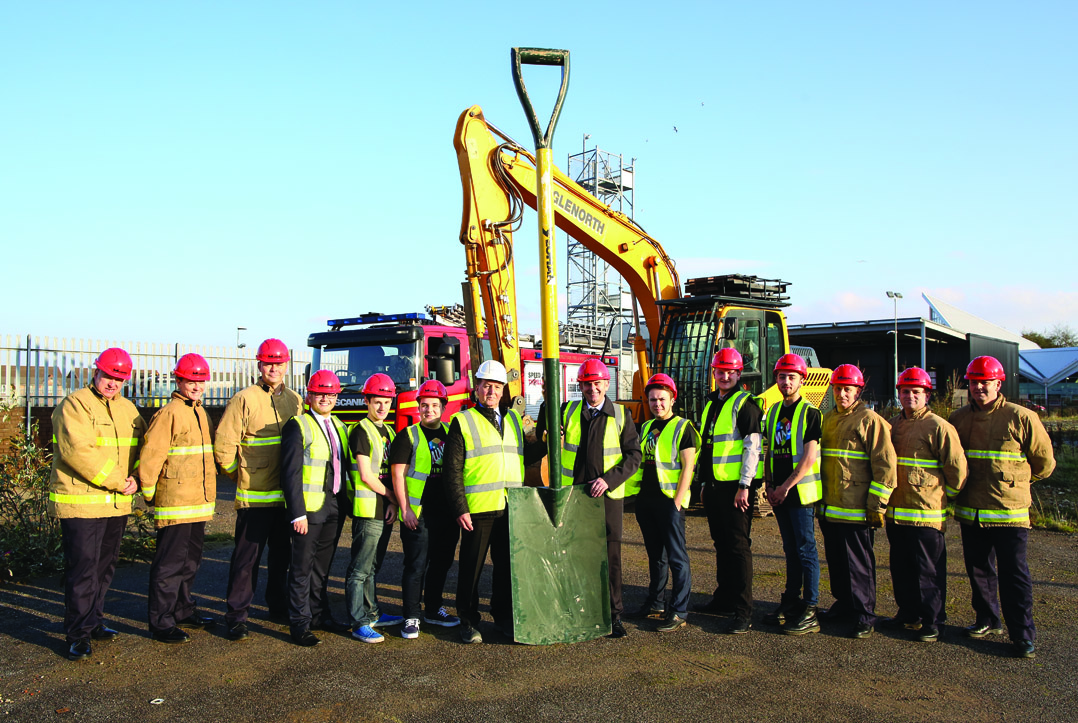 We're delighted to welcome second Founder Patron to our Youth Zone family as Boulting Group, a multi-disciplined engineering solutions provider, has agreed to support the charity to the tune of £75,000 over three years.
The announcement comes just weeks after construction work on site officially commenced to develop the £6million Youth Zone, which is expected to be completed by the end of 2016.
Boulting Group is the second company to join our growing group of supporters that are helping to make The Hive – Wirral Youth Zone a reality, by pledging a significant donation to support the facility's annual running costs of £1million per year.
With its head office in Warrington, Boulting Group provides a wide scope of project services from project management, design, fabrication and installation to commissioning and ongoing maintenance services both UK and Internationally and has strong in-house resources in all the major Engineering Construction disciplines.
Dave Friar, International Director and Executive Board Member at Boulting Group said: "The moment we heard about Wirral Youth Zone we knew it was exactly the type of relevant investment the young people in this region need. We are proud to offer our support to ensure that we can help build a brighter future for young people. It will make a huge difference to have this safe and inspiring place where they can discover their talents, build their confidence and self-esteem and aspire to lead healthier and happier lives."
The Hive will cost £1million per year to run and this will be secured through a combination of public sector and private sector funding. Over the coming months, 50% of the running costs will be secured through the local business community to help shape the future of the borough's young people.
Stuart Barnes, General Manager at The Hive – Wirral Youth Zone said: "We are hugely thankful to the Boulting Group for its support towards The Hive. With the Youth Zone concept already tried and tested in the North West, we have a compelling proposition for community investment in what will be the first facility of its kind in Merseyside. Founder Patron support is crucial to the sustainability of the Youth Zone and this backing will help give the young people of Wirral a safe and inspiring place to spend their leisure time.
"Private sector support is vital to the future of Wirral Youth Zone. Without their investment, the Youth Zone cannot happen; however we still need more businesses to get behind the project and invest in our city's young people, in their future."
Become a Founder Patron of The Hive
Becoming a Founder Patron of The Hive is a chance for the local businesses and philanthropists to create a legacy for the future of Wirral. Their support and endorsement of the project will serve to encourage others to invest in the future of the city's young people. For more information about how to get involved please contact: Stuart Barnes on 07734 217916 or email thehive@onsideyouthzones.org .
Find out more about being part of our Founder Patron Family by clicking here.
Underpinning the revenue funding from The Hive's Founder Patrons is capital investment from Bibby Line Group, The Johnson Foundation, Lord Leverhulme's Charitable Trust, Garfield Weston Foundation, UBS, Linbury Trust, OnSide, The Queen's Trust, St James's Place Foundation, Holroyd Foundation, Wirral Borough Council, Merseyside Fire and Rescue Service and The North West Ambulance Service (NWAS) NHS Trust. Click here to find out more about our Capital Supporters.