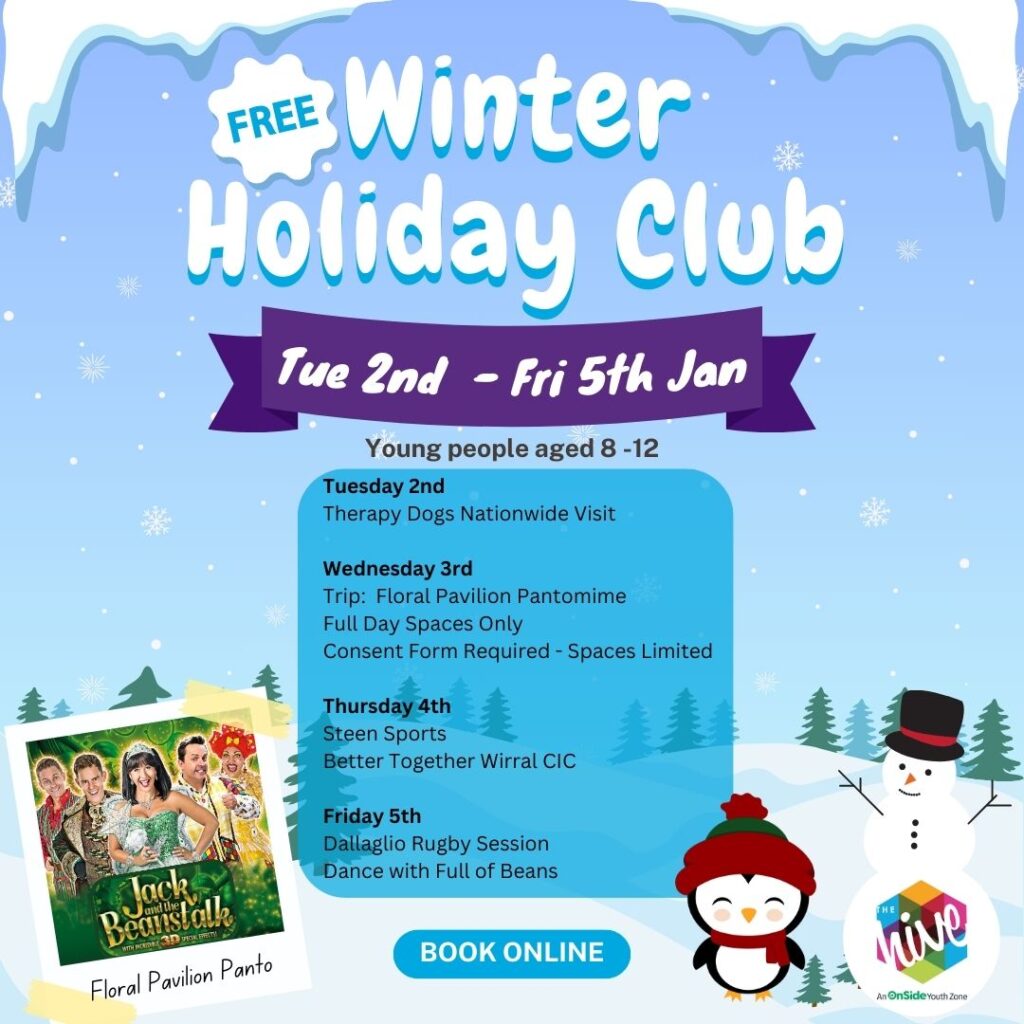 If you have any questions, please take a look at our FAQs below or give our reception team a call – 0151 705 8000
What times are the sessions?
A full day session runs from 8am – 5pm. You can arrive anytime between 8am and 9am and a collection time before 5pm
What ages is the holiday club for?
The Hive holiday club is for 8 to 12 year-old members of The Hive. To sign up as a member, Click Here
Do you have to be a member of The Hive to attend?
Yes – the holiday club is for our junior members – you can join The Hive for £5 annual membership. To sign up as a member, Click Here
When are breakfast and lunches served?
Breakfast is served between 8 .30– 9.30am, lunch is served between 12.45 – 1.45pm. Which includes a hot meal option
Do you cater for dietary needs or allergies?
Yes – please let our team know about your child's requirements when you book into holiday club.
Do my children need to wear anything specific?
Children should wear comfortable clothing that is suitable for them to take part in activities such as messy art and craft.
Do my children need to bring any money?
All activities and meals are included in the Holiday Club session price. We will be running a reduced 'tuck' shop? Where members can buy crisps, cake bars, slush and sugar free fizzy drinks so members can bring a few £'s if they want an extra snack.
What activities are on offer at the holiday club?
A full programme of activities is planned prior to your young person attending, there are plenty of sport, art and music activities available throughout the day. If you would like more information please contact Dougy Oliver our Inclusion and Holiday Club Manager.
My child has additional needs, can they attend holiday club?
Yes, all our provision is inclusive! If your child needs extra support, please let us know in advance by filling in an "all about me" form.
Can I turn up on the day and pay for my child to come in?
No – holiday club spaces must be booked as sessions are limited and we don't have open spaces on the door.
I've booked a session and now my child can't attend – can I get my booking refunded?
No – we cannot refund any bookings or make changes to a booked session, exceptional circumstances may be considered.