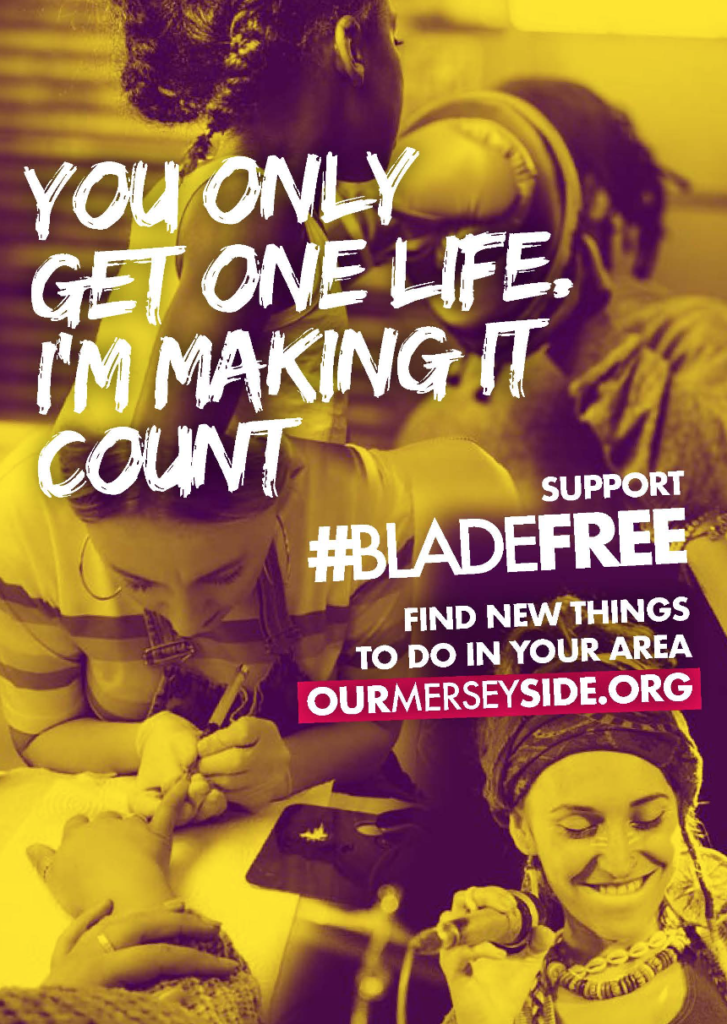 We are so proud to be part of the #BladeFree campaign and have launched  a programme of targeted Youth Work to tackle knife crime and promote positive outcomes for young people.
We have been successful in obtaining funding for vital projects which will raise the aspirations of young people and highlight the dangers of knife crime and violence, through engaging physical activity and a range of art, drama and media workshops.
These new projects have been developed specifically for the senior members of The Hive, with plans to reach out to both current members alongside plans to recruit young people from specific areas of Wirral. This programme of outreach has been created with support from Merseyside Police to target the area's most in need of intervention.
Hard Hitters Project
The 'Hard Hitters' campaign has been created to reduce violence in the local community with the theme of the programme about encouraging young people to channel their energy in positive activity rather than out on the street. Those involved will be participating in boxing, climbing and gym sessions and will have the opportunity to gain an activator qualification.
Tuesday sessions with Chris;
Gym session 5.30 – 6.30pm           Boxing session 7 – 8pm
Friday sessions with Chris;
Climbing  5:30 – 6:30                    Boxing 7 – 8pm
Hard Hitters Workshops
Friday 24th January – Induction to 'doorstep sport' certificate 5 – 8pm
(sign up with Chris or email chris.lane@thehiveyouthzone.org to find out more)
Friday 6th March – Impact of sport on antisocial behaviour and crime certificate
(sign up with Chris or email chris.lane@thehiveyouthzone.org to find out more)
Hive Against Knives
'Hive Against Knives' is a media and performing arts project, involving workshops around themes such as knife crime and criminal exploitation. Young people will be creating an anti-knife crime video and in music will be producing a collaborative rap around the issues raised across the project.
Steve Anderton, Senior Youth Work Lead at The Hive said;
''The Hive provides young people with the opportunity to express themselves in a safe, controlled manner with exposure to the life skills of respect, self-discipline and positive role models. These projects give us the chance to engage our members by exploring issues that really matter to them and we can make a real difference by listening to their views and guiding them to positive activities and aspirational lifestyles through informal education.''