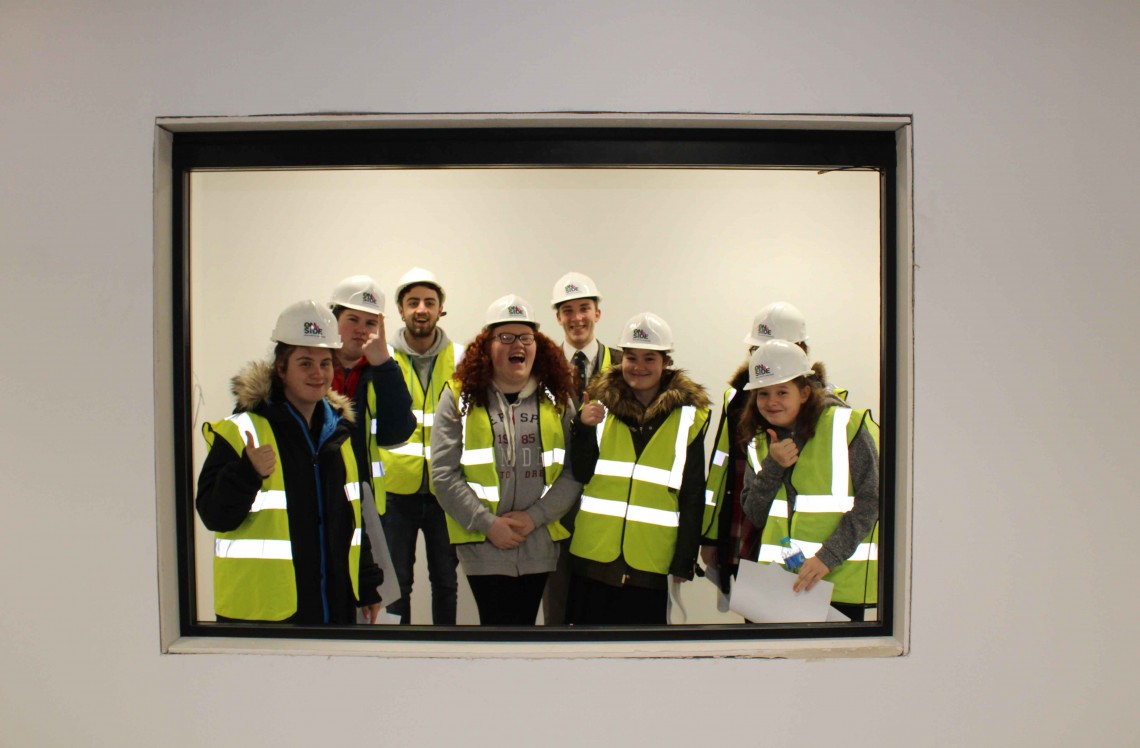 YP work on interior design
Eight young people from our Young People's Development Group attended The Hive building site last week to explore interior design options as we count down to opening on April 8th.
Molly Richards, June Marie Hallsworth, Ryan Jones, Alexandra Tolond, Natasha Atkins, Lewis Collins, Georgina Sysum and Alex Huyton first toured their upcoming Youth Zone before meeting with OnSide Youth Zones Senior Development Surveryor, Adam Poyner who presented some ideas for the interior design to them.
The development group took these thoughts on board and the next few weeks will see the young people create mood boards for each area of the Youth Zone before presenting their ideas back to Adam and the fellow Surveyors who can then feedback to the design team at HandH Smith and Sons.
Some ideas put forward by the group were motivational quotes spread across each area with the Hive logo being prominent as young people enter the building. They have also suggested the Founder Patron plaques each supporter of The Hive receives, to be constructed as a Bee Hive!
Let's not forget the young people themselves want their names presented and acknowledged for their input!
Adam Mellor, Youth Work Manager at The Hive said: "Young people need to decide how the Youth Zone looks and feels, we want all young people aged 8-19 (up to 25 with a disability) to take ownership of The Hive and as the young people have stated throughout they want the Hive to become a 'Home from Home'. Throughout this process, and other processes e.g staff recruitment, young people are gaining important life skills and opportunities and experiencing negotiation and budgeting skills along the way."
Wirral Youth Zone will offer a multitude of activities and services will help raise the aspirations, improve the health and well-being and enhance the prospects of an anticipated membership of over 3,000 young people across Wirral.
The Hive will cost £1million per year to run and this will be through a combination of public sector and private sector funding. 50% of the running costs has virtually been secured through the local business community, but we still need more. Becoming a Founder Patron of The Hive is a chance for the local businesses and philanthropists to make the difference to the lives of young people and the future of a prospering region. Their support and endorsement of the project will lead the way to encourage others to invest in the future of the borough's young people. For more information about how to get involved please contact: Kate Thomas on kate.thomas@thehiveyouthzone.org.
Stay tuned to see what The Hive's interior features will look like – all will be revealed soon!