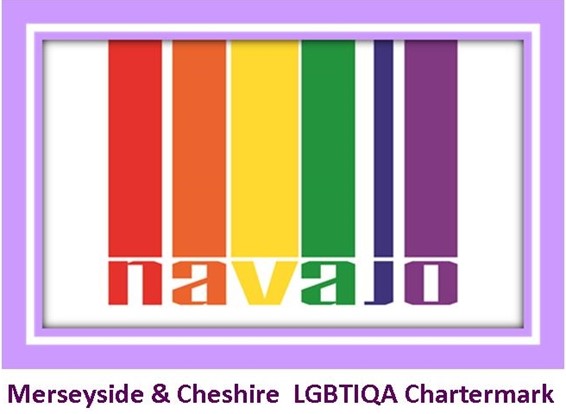 Youth Zone Awarded Merseyside LGBT+ Chartermark
The Hive, Wirral Youth Zone has successfully passed a rigorous assessment period to achieve the Navajo Merseyside and Cheshire Chartermark.
The Navajo Merseyside & Cheshire LGBT (lesbian, gay, bisexual, transgender +) Chartermark is an equality mark sponsored by In-Trust Merseyside & Sefton Embrace and supported by the LGBTI Community networks across Merseyside – a signifier of good practice, commitment and knowledge of the specific needs, issues and barriers facing lesbian, gay, bisexual, and transgender (LGBT+) people in Merseyside.
The Hive's mission is to improve the mental health and emotional well-being needs of children and young people in a non-stigmatized environment. As part of our many services and support we offer within our purpose-built facility or in the community, we have specific support groups and projects that meet the criteria of the Navajo Chartermark.
In late 2019, both Lewis Collins (Data & Evaluation Administrator) and Mark Easdown (Deputy CEO | HR and Finance) began to undertake the process of self-assessing The Hive's policies and procedures and capturing the views and feelings of LGBT+ Young People and Team Members to greater understand the needs and areas for development in the organisation.
The application process was designed to assess organisations in terms of LGBT+ friendliness and the application included five distinct elements: –
Practices and Policies
Training
Staff Recruitment & Engagement
Monitoring
Service Users and LGBT Engagement
Achieving the Charter Mark means that The Hive, Wirral Youth Zone has demonstrated that it: –
Promotes best practice in engaging with the LGBT+ community.
Recognises and is addressing the difficulties that our organisation may face in addressing the needs of the LGBT+ community.
Raise awareness among the team with regard to the particular issues that affect LGBT+ people in accessing our services.
Raises awareness of the particular issues in addressing the needs of our LGBT+ employees through good management practice (i.e., complaint processes, harassment policies, etc.)
Identifies innovative new ways of working to meet the needs of LGBT+ people.
Is fully aware of all legislative frameworks which impact on service delivery.
Bug Curtis-Monro, an attending Youth Zone Member, who attended the awards ceremony on 1st October 2021 said in a compelling speech that brought the house to their feet "I know it is not just me who has been impacted by the inclusivity here. I am forever grateful for The Hive for helping me and my newfound family. Accepting someone is the bare minimum and The Hive goes above and beyond that line of bare minimum.
The Hive is truly one of the safest places I've been to for being me. I could not be more grateful for everyone, especially Kat who has everyday helped me accept myself. I may not have been here very long, but this is the safest and most accepted I've felt, and I couldn't be more grateful."
Stuart Barnes, Chief Executive of The Hive said "We are much more than providing young people something to do. We are here to provide reassurance to our young people. We strive to be inclusive and representative and involve as many young people in our provision as we can. We are aware of the issues and struggles of young people who are LGBT+. We have to be proactive and break down the barriers faced by young people who are LGBT+. We have worked extremely hard to create an inclusive safe space and culture whereby young people are encouraged to engage, thrive and make change."
Lewis Collins, Data and Evaluation Administrator said "Following the recent rise in hate crime incidents across the Liverpool City Region, now is an important time to reassure and support our young people and colleagues in the LGBT+ Community. As a gay man, I am proud to support and share my knowledge and experience with my community, allies and those who need support in understanding the bigger picture of equality and inclusion.
Receiving the NAVAJO Chartermark is an amazing achievement that our organisation and young people should be extremely proud of. It's amazing to become part of such a diverse network of organisations who meet the standard set by NAVAJO, and I know that it'll prove extremely useful to tap into such a great resource for best practice information, advice, and guidance."
The Hive would like to say a huge thank you to its young people for their support and for attending the youth zone and for helping shape both the culture and the various services and activities we offer. The Youth Zone also greatly appreciates the Team for supporting the application process to greater understand the needs of the LGBT+ Community working within the Youth Zone.