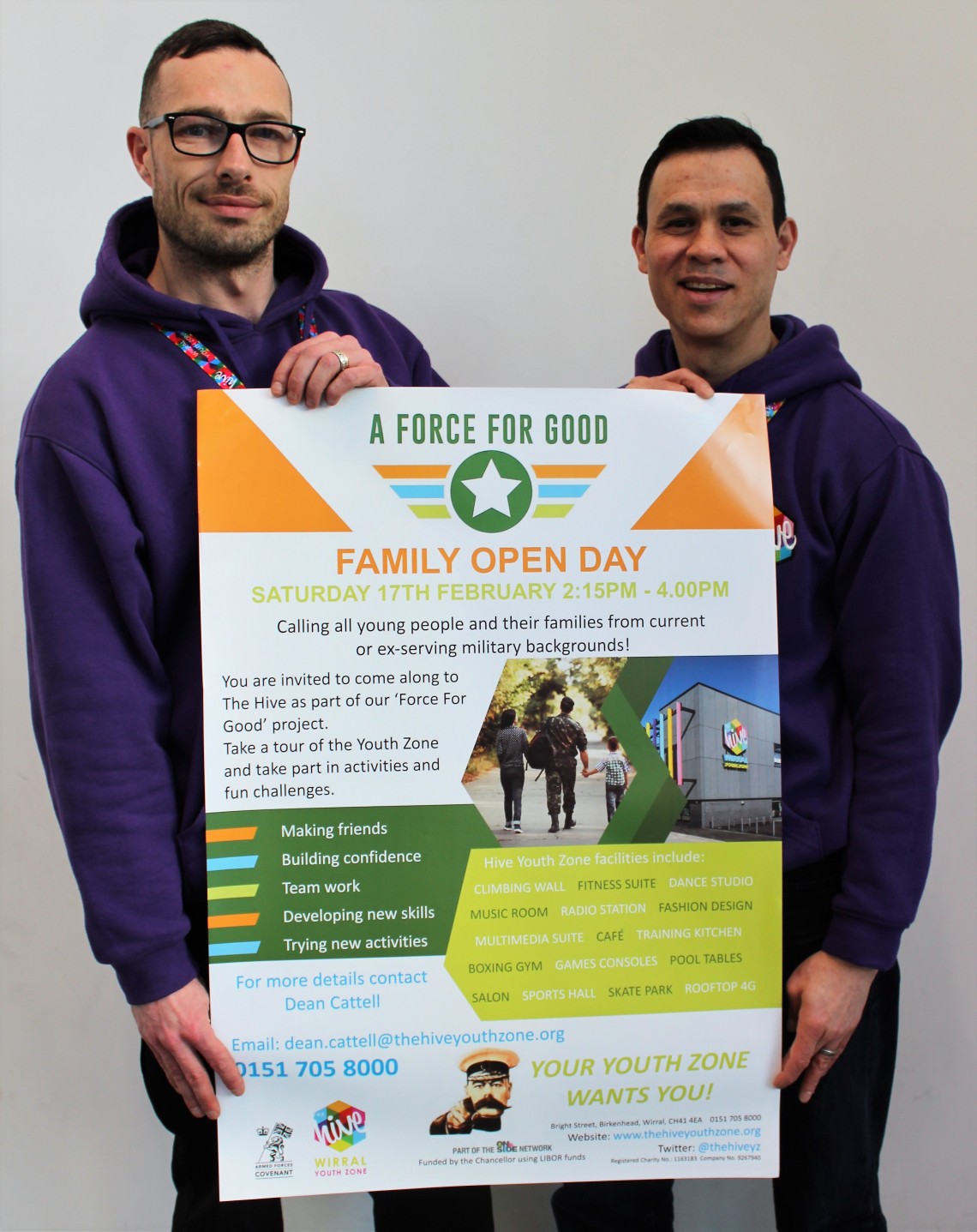 Children and young people from military families on Merseyside are being invited to share new experiences, make friends and learn new skills at The Hive, Wirral's state-of-the-art youth facility.
The Hive, as part of the national Onside Youth Zone network, has been awarded funding by the Chancellor of the Exchequer, through the Libor Grant Scheme, to deliver a ten-month project aimed at helping current and ex-serving military families to forge social links and develop a sense of community.
The 'Force for Good Project' will see The Hive open its doors, free-of-charge, to military families in the area with children or young people aged 8-19 (up to 25 for anyone with additional needs).
The Hive's team will work closely with children and young people from military families, enabling them to enjoy a range of new activities, make new friends, develop life skills and improve their overall wellbeing. The Force for Good project will also help military families who utilise The Hive to make social links with other families from the military community and with local services that can support them with any identified issues.
The Hive is holding a Force for Good open event on Saturday 17th February 2018 between 2:15pm-4:00pm to launch the initiative. Anybody interested in the scheme is invited to attend, take a tour of The Hive, try out some family-focused activities and find out more about the project.
Dean Cattell, Project Co-Ordinator, who is helping to deliver Force for Good at The Hive said, "While most of those who leave the armed forces make successful transitions there are still a significant amount of people who encounter difficulties. This can have a negative impact on military families from a social and financial aspect – leaving many children feeling vulnerable and excluded. With its fantastic range of facilities and passionate, supportive team, The Hive is the ideal place for these young people to rediscover their confidence, improve their mental well-being and broaden their horizons."
Kevin Archer, Families Officer at Liverpool Veterans HQ, is encouraging military families to visit The Hive and get involved with Force for Good. He said, "This fantastic project brings together serving personnel, reservists, veterans and their families. The military is a community in itself that has a 'family' sense of belonging but we need to see that permeating down to individual family units. The Hive is providing military personnel, veterans and their families with a place to get together outside of the military environment – allowing parents to be involved and bond with their children whilst having fun."
Anyone seeking further information on the 'Force for Good' initiative at The Hive can contact Dean Cattell:
0151 705 8000 dean.cattell@thehiveyouthzone.org