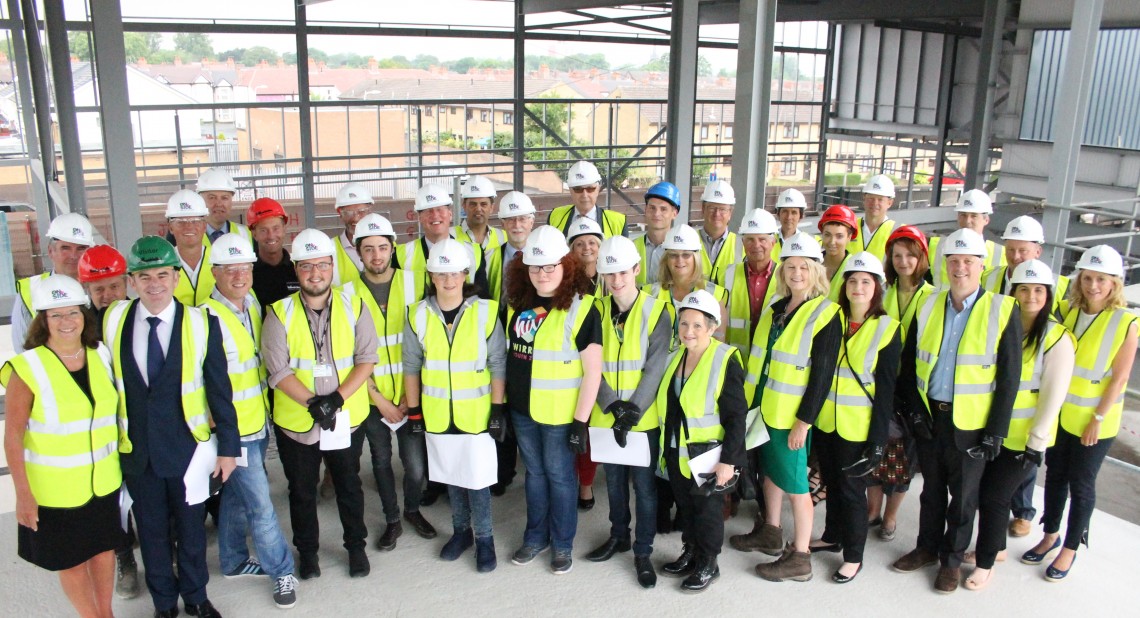 Supporters of our Wirral Youth Zone united recently at a special event, providing the first opportunity to go on the building site to see for themselves how quickly the The Hive is progressing.
Contractors, H.H. Smith & Sons have continued their fantastic work on the Youth Zone building site with the erection of the steel frame, upper floors and the roof deck completed. Externally work continues on the cladding and masonry walls to make the building water tight.
Internally, work is now commencing on the walls, mechanical and electrical installations, ceilings and flooring in line with the construction programme which will see an estimated completion in February 2017.
We now has 12 Founder patrons, businesses and individuals with a vested interest in Wirral and its young people, each of which has committed to investing in the creation of a legacy for young people and the whole borough. Many of these attended the event and after a tour of the fast-moving building site, were addressed by Youth Zone Chairman, John Syvret CBE, who thanked everyone for their support, without which the project would not be at this advanced stage of development. Members of the Hive's Young People's Development Group were also present and they talked passionately about their contribution and how the support of their own Youth Zone will benefit their own lives once it is open.
Stuart Barnes, General Manager at the Hive – Wirral Youth Zone said: "We cannot thank our Founder Patrons and other supporters enough, together, they are ensuring that young people from across the Wirral will have the opportunity to raise their aspirations, improve their health and well-being and achieve their potential. It is also encouraging that so many are keen to help in other ways too, particularly local business support for our employability and enterprise work. It is exciting to see the rapid progress of the build and everyone involved is eagerly anticipating opening but in the short term, however, our priority is to enlist the support of some more Founder Patrons who will guarantee the security of the project in the coming years."
For more information about how to get involved please contact: Stuart Barnes on 07734 217916 or email thehive@onsideyouthzones.org