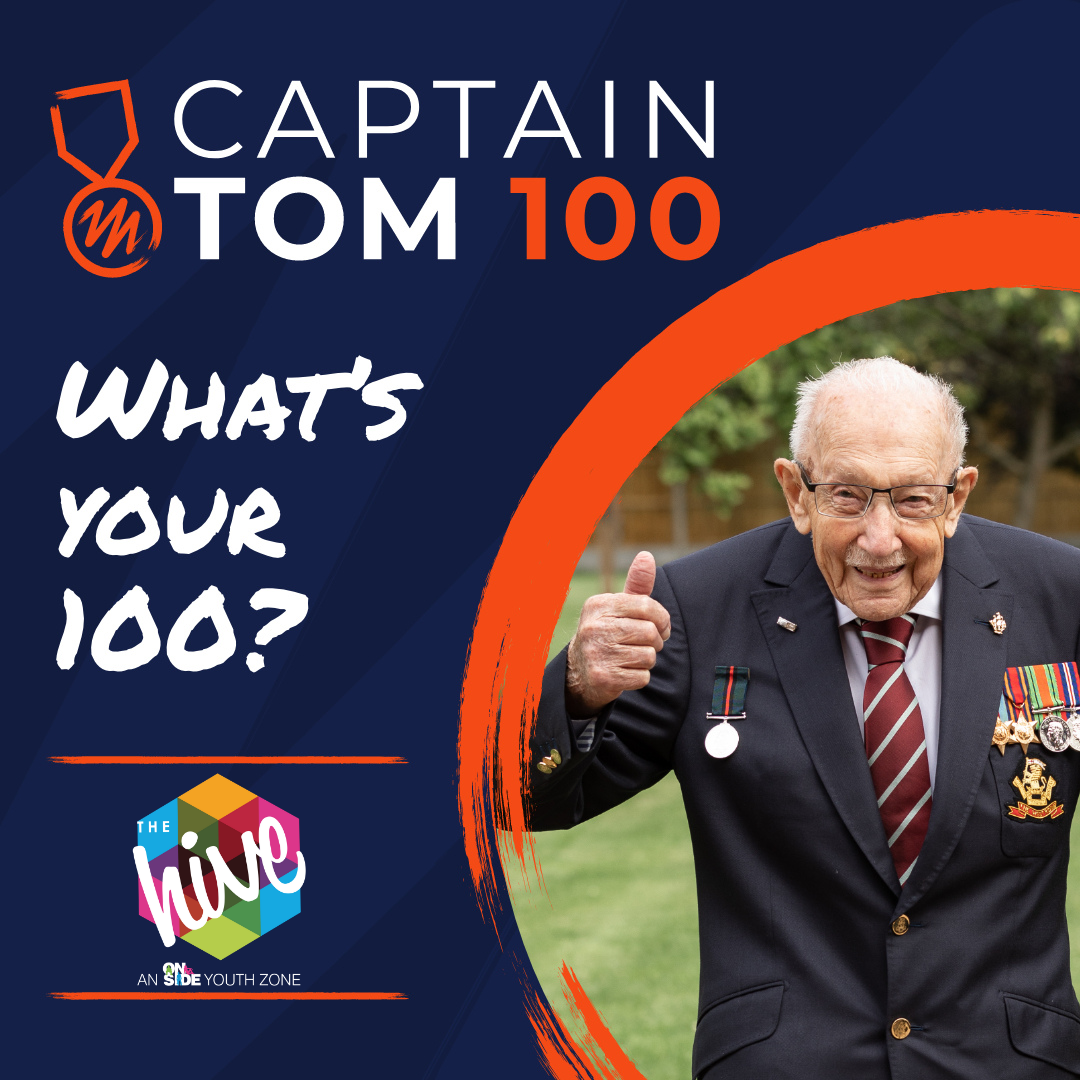 On 6 April 2020, Captain Tom Moore set out round his garden to thank our NHS heroes. One hundred laps later, he had raised an incredible £38.9 million for the NHS Covid-19 appeal.
Friday 30 April would have been his 101st birthday and to honour him and his amazing achievements, The Captain Tom Foundation would love everyone, of all ages and abilities, to take part in the Captain Tom 100 and raise money for a charity of their choice.
So why not take on the #CaptainTom100 challenge and raise funds for The Hive?
It could not be easier, base your fundraising challenge around the number 100 and carry it out between Friday 30th April and Bank Holiday Monday 2nd May.
The challenge could be walking 100 steps or running 100 metres, scoring 100 goals, baking 100 cakes, climbing 100 stairs, hopping 100 laps of the garden, building 100 sandcastles, writing a 100-word poem, flipping 100 pancakes – anything at all,
Don't forget to share your 100 on social media using #CaptainTom100
Want to get involved? You can find more information and sign up here
Everyone is invited to take on a challenge around the number 100 anytime and anywhere over Captain Tom's birthday weekend.
To celebrate his legacy, his family are encouraging the nation to take part in a fundraising challenge for a charity of their choice. Why not choose to raise funds for The Hive?
All you have to do is:
–              Think up your 100 challenge. It can be anything you like – from walking 100 metres to baking 100 cakes or writing 100 letters
–              Take on your 100 any time between Friday 30 April and Monday 3 May
–              Fundraise or donate to The Hive here
–              Share your 100 on social media using #CaptainTom100
We cannot wait to see how you take on your #CaptainTom100 challenge!
Watch this video and find out how celebrities are getting involved and get some challenge idea inspiration!