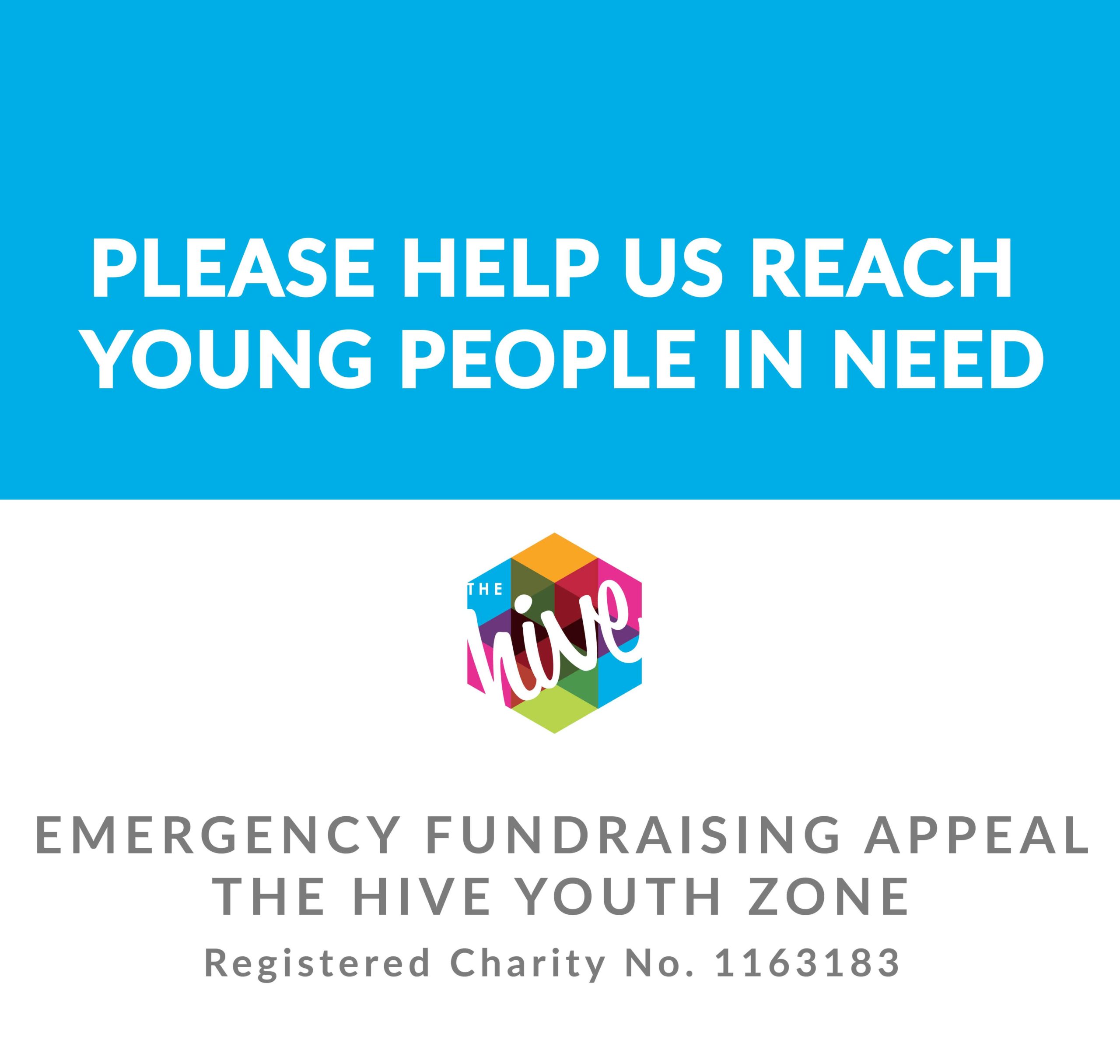 Vulnerable young people need us now.
The Hive is a charity dedicated to supporting all young people.
In this time of crisis we are needed more than ever before.
We have a wonderful family of patrons and supporters whose generous contributions allow us to transform the lives of young people. Please join them and donate as you are able.
Although the Youth Zone doors are closed, our mission to provide young people with something to do and someone to talk to, 365 days of the year continues at pace as we find new ways to reach out and make a real difference in our local community.
Our response to the crisis has been immediate. We have worked hard to imaginatively re-design our offer and provide support to young people in the most impactful way possible. We have assessed all available resources and translated our offer into a new programme of digital youth-work. We are determined no young person should feel alone, afraid or hungry whilst social distancing measures are in place.
We are providing daily interactive digital sessions across social media to keep young people engaged through a range of engaging content including interactive games, quizzes, fitness challenges and art tutorials. In the first seven days have reached over 22,000 online accounts.
Our dedicated 'Talk to The Hive' email address means that young people can access support from our team, messages are followed up with welfare calls and help is given as needed. Mentoring relationships which have been established at the Youth Zone have also continued using digital platforms for mentors and mentees to continue their vital work.
Along with targeted one-to-one youth work support for our most vulnerable members our team are working to create and deliver weekly 'Hive Hampers' which contain essential food supplies and toiletries for those in need. In addition to this we are supplying art and craft boxes to young people so they can follow along with our digital art sessions and keep busy and engaged by creating their own artwork at home.
We are asking for urgent help to enable us to reach the most isolated and vulnerable young people who need us most. They need your support NOW!
We are perfectly placed to act quickly and make an immediate difference to the lives of our 3,000+ young members.
Please help us!
Please donate at
http://donorbox.org/support-the-hive