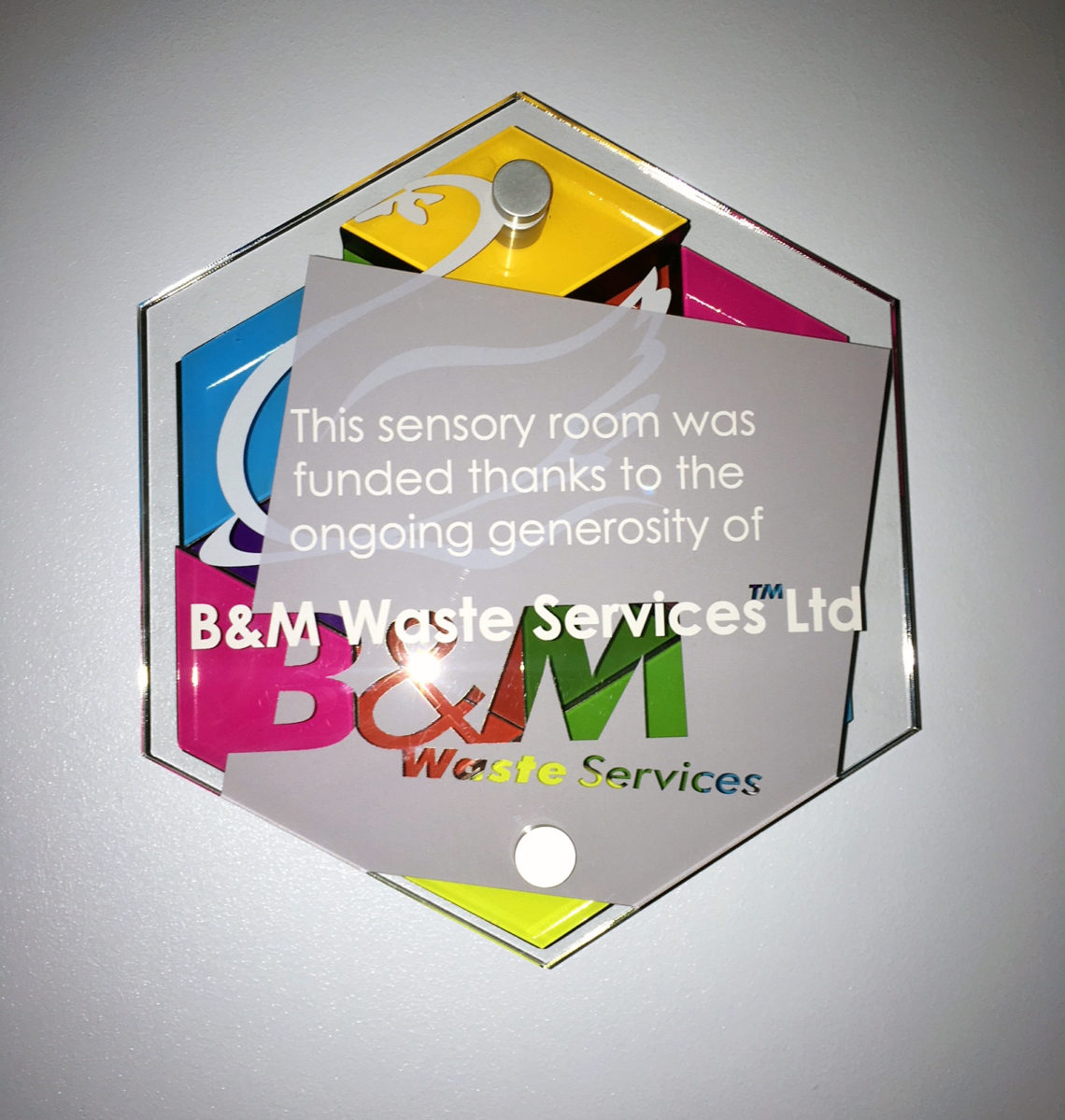 Our sensory room has under gone a dramatic transformation, thanks to the generosity of B&M Waste Services, which has donated thousands of pounds worth of specialist equipment to ensure that our members have the best experience possible if they need access to a relaxing 'break-out' space.
Wirral-headquartered B&M Waste Services is a Hive founder patron and, along with other patrons, makes a valuable contribution towards our annual running costs. This donation of equipment for our sensory room is the latest show of support from B&M, which has previously raised awareness of The Hive via branding on its vehicles and provided work experience opportunities for our Members.
Sensory room equipment donated by B&M includes bubble tubes, fibre optic lights, projectors, a mirror ball and an interactive sensory floor.  The room will help young people with a wide range of disabilities and additional needs.
It will be used to support individuals with autism and sensory processing disorders and will enable our team to enhance the sessions we deliver for young people on the autistic spectrum.  Offering a relaxing break-out space, the sensory space will also provide young people with a place to go when they first arrive at The Youth Zone, if they require some time to become accustomed to the environment.
Dougy Oliver, Inclusion Manager at The Hive said, "Having recently achieved our Autism Champions status, this newly-equipped room is a fantastic addition to the facilities at The Hive and will massively enhance our offer to young people with disabilities and additional needs – including those on the autistic spectrum.  It will also function as a break-out space for young people who suffer from anxiety, offering a calm, relaxing environment where we can help individuals to develop a greater sense of self-awareness. We are enormously grateful to B&M Waste Services for helping us to make positive difference to the lives of our young Members."
Ken Curtis, Chairman of B&M Waste Services, commented; "We're so pleased to support such a fantastic project for a truly outstanding organisation. We believe in giving back to our local community and the sensory room at The Hive will have a hugely positive impact."
Director at B&M Waste, David Curtis, added; "As soon as we heard about the sensory room plans for The Hive, we knew we wanted to offer our support. Seeing it come to life has been wonderful and has completely exceeded our expectations."
We hope that our members get the best out of this space and as The Hive continues to be a place of inclusion, for all young people across Wirral.
Find out more about B&M at https://www.bagnallandmorris.com