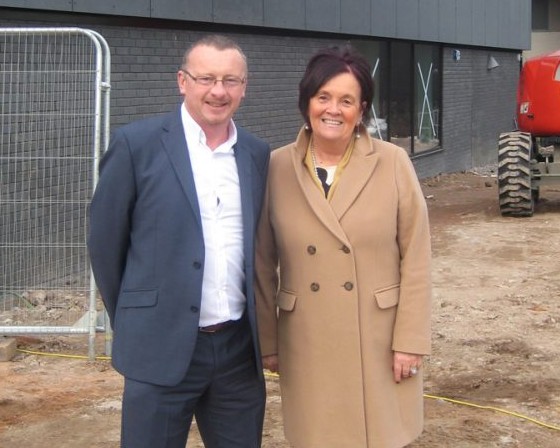 Generations of young people are about to have their lives transformed as a dynamic new Progress to Excellence Group partnership gets under way with Wirral Youth Zone.
The Hive had a pre-opening target of 20 Founder Patrons and this support means Stuart Barnes and the team are well on the way to making sure The Hive is sustainable for the first three years of operation.
Progress to Excellence Ltd was established in 1997 in Birkenhead and has more than 20 years of experience and success in providing training and assessment for organisations.
Sandra Kirkham, managing director of Progress to Excellence Group, said: "To become a founder patron of such an amazing facility here on our doorstep is one of the most exciting ventures we have undertaken. Our business as a national training provider means putting young people, their development and welfare at the centre of everything we do. It doesn't matter where you are born or brought up – the young all need the same advantages to ensure a bright future for themselves and to make a significant contribution to our economy. I am passionate about our responsibility to the local community here in Birkenhead, where we have our national headquarters, and see this partnership with The Hive offering endless opportunities to show local young people, many of whom are in need of extra support to reach their full potential, that they deserve the best. I also see The Hive as being a central hub to bring together like-minded organisations – whether public, private or third sector – to work together to make a positive difference to young lives."
Stuart Barnes, chief executive of Wirral Youth Zone, added: "Working in collaboration with local organisations is a fundamental part of making The Hive a success in the community. We want to work together to make sure the offer for young people is the best it can be and the support and expertise of Progress to Excellence Group can help us to improve this offer."
Volunteers will be crucial in the pre-opening phase. The Hive needs to recruit 100 dedicated members of the community to make sure they deliver the best service for Wirral's young people. They recently recruited their first batch of volunteers, but they now want YOU to join them too. If you have a passion for working with young people or simply want to give a little back by helping out in an admin or kitchen role for example, The Hive want to hear from you. Contact Volunteer and Training Manager Sam Curley on: sam.curley@thehiveyouthzone.org.
Wirral Youth Zone will offer a multitude of activities and services will help raise the aspirations, improve the health and well-being and enhance the prospects of an anticipated membership of over 3,000 young people across Wirral.
The Hive will cost £1million per year to run and this will be through a combination of public sector and private sector funding. 50% of the running costs has virtually been secured through the local business community, but we still need more. Becoming a Founder Patron of The Hive is a chance for the local businesses and philanthropists to make the difference to the lives of young people and the future of a prospering region. Their support and endorsement of the project will lead the way to encourage others to invest in the future of the city's young people. For more information about how to get involved please contact: Kate Thomas on kate.thomas@thehiveyouthzone.org.
Revenue support has already been pledged by: Urenco UK, Boulting Group, Altrad NSG, The Contact Company, Selwyn-Lloyd Charitable Trust, John Syvret CBE, The Bibby Family, Cammell Laird, Edward Billington & Son Ltd, Anne Duchess of Westminster's Charity, B&M Waste Services, Andrew Collinge Hairdressing, Park Group, West Wallasey Car Hire, the Barton Family and an unnamed anonymous supporter.
Wirral Youth Zone is an independent charity which will operate to the successful OnSide Youth Zones model.
For more information or to sign up as a member visit www.thehiveyouthzone.org/new-member