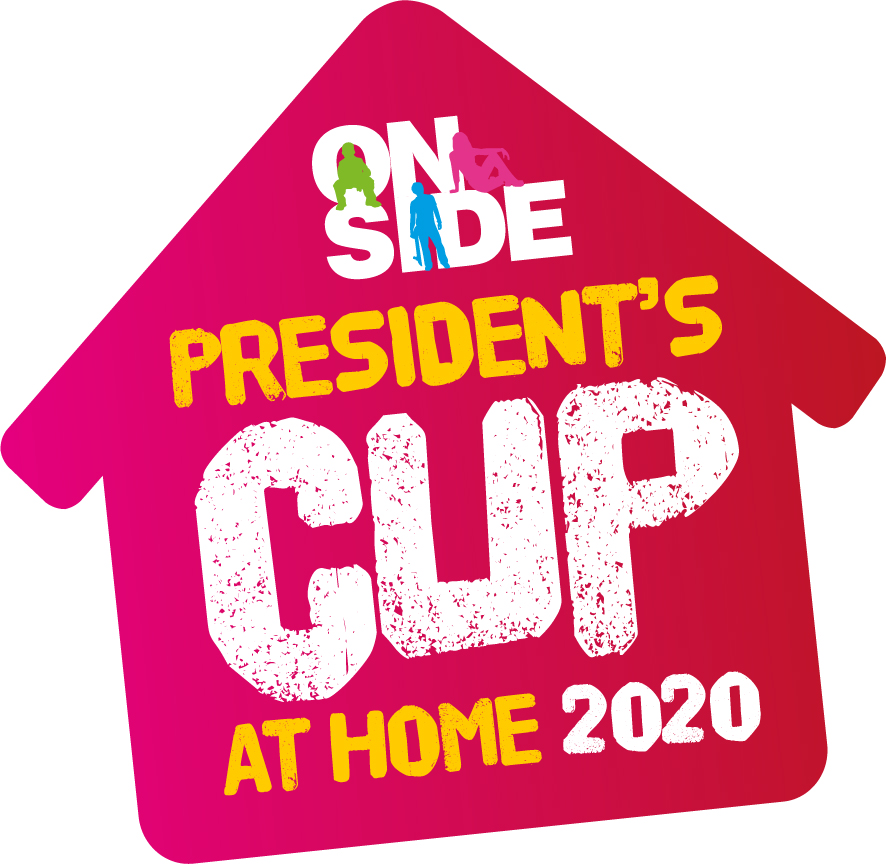 This year the Onside Network Presidents Cup is taking place as a virtual competition, as young people isolated at home are competing in a series of online challenges, rather than meeting up as in previous years.
The virtual President's Cup competition will run for four weeks and will include: art, dance, sport and finish with a network wide quiz. The Hive, The Way, Bolton Lads and Girls Club and Wigan Youth Zone will be leading each of the activities will set the challenge, judging criteria, the deadline for submissions.
Week 1
ART CHALLENGE
25th May – 29th May
Week 2
DANCE CHALLENGE
Submission deadline = Friday 12th June.
Dance challenge music
DANCE CHALLENGE BRIEF
Young people to submit a self-choreographed dance piece.
To gain extra points you can use the moves in the video but it is not compulsory. You can only gain a maximum of 3 points and the moves don't need to be in the order of the video.
We have chosen to choose the music and the section of music to make it fair and easier to judge.
Young people from The Hive can submit their entries to hiveathomecomms@thehiveyouthzone.org
Judging criteria 
Musicality – How well young people stay in beat and to the music & how well their movement matches the music
Creativity – The choreography and how they incorporate the moves together.
Use of moves — 1st move – 1 point, 2nd move – 1 point, 3rd move – 1 point (max of 3 points)
Presentation – Overall presentation of the choreography – showmanship, technique, execution of moves, are they enjoying themselves.
Week 3
Sports 'Lockdown Skills' Challenge
Young people must submit a video of themselves with the following criteria:
The video must include at least one skill that is performed
Music will be overlaid by the Zone so there is no need for any audio. Free uncopyrighted music can be found on YouTube.
Each video must include a Ball, E.G: Football, Basketball, Golf Ball, Tennis Ball
Submissions must be provided to The Hive via any social media outlet messaging service, or emailed to hiveathomecomms@thehiveyouthzone.org
All participants should also submit photo/video consent for their footage to be used on social media platforms in association of promoting, highlighting or reflecting on the 'President's Cup'. Submissions cannot be considered without consent for all Young People within the video submission.
Judging Criteria
Skills- Young people will be judged on the complexity of the skills they perform. Where it be a goal, trick shot, balance etc.…
Creativity – Entries must be as creative as they can get, using what they have within their surroundings
Presentation – The video must be eye catching with the young person being enthusiastic, passionate and radiating positive energy to keep judges engaged and entertained
Week 4
Network Quiz
On Thursday 18th of June, Wigan Youth Zone will send links for the following ZOOMs along with the link for the Kahoot Quiz.
Juniors Presidents Cup – Friday 19th of June 2pm (ZOOM)
Youth Zones to select one Junior member to participate and to represent juniors.
Seniors Presidents Cup – Friday 19th of June 4pm (ZOOM)
Youth Zones to select one Senior member to participate and to represent Seniors.
Rules
The Quiz will be multiple choice and host a variety of general knowledge themed questions specific to the age group. Mike will be our WYZ quiz master and young people will need access to both ZOOM and Kahoot. Mike will ask a question through zoom and the young person will need to answer through Kahoot.
Bonus Point
To make this president cup challenge more interactive for all members throughout social media there will be a bonus point for the best team name. Youth Zones to ask their members to submit ideas of a team name this can be done creatively in a variety of ways;
Discussions in zooms
Poll on Instagram Story
Question on Instagram Story
Discussion on live streams
Team name to be confirmed and announced on the Junior ZOOM quiz.
Judging Criteria
20 questions with 20 points
1 bonus point to the winning team name
Good Luck!