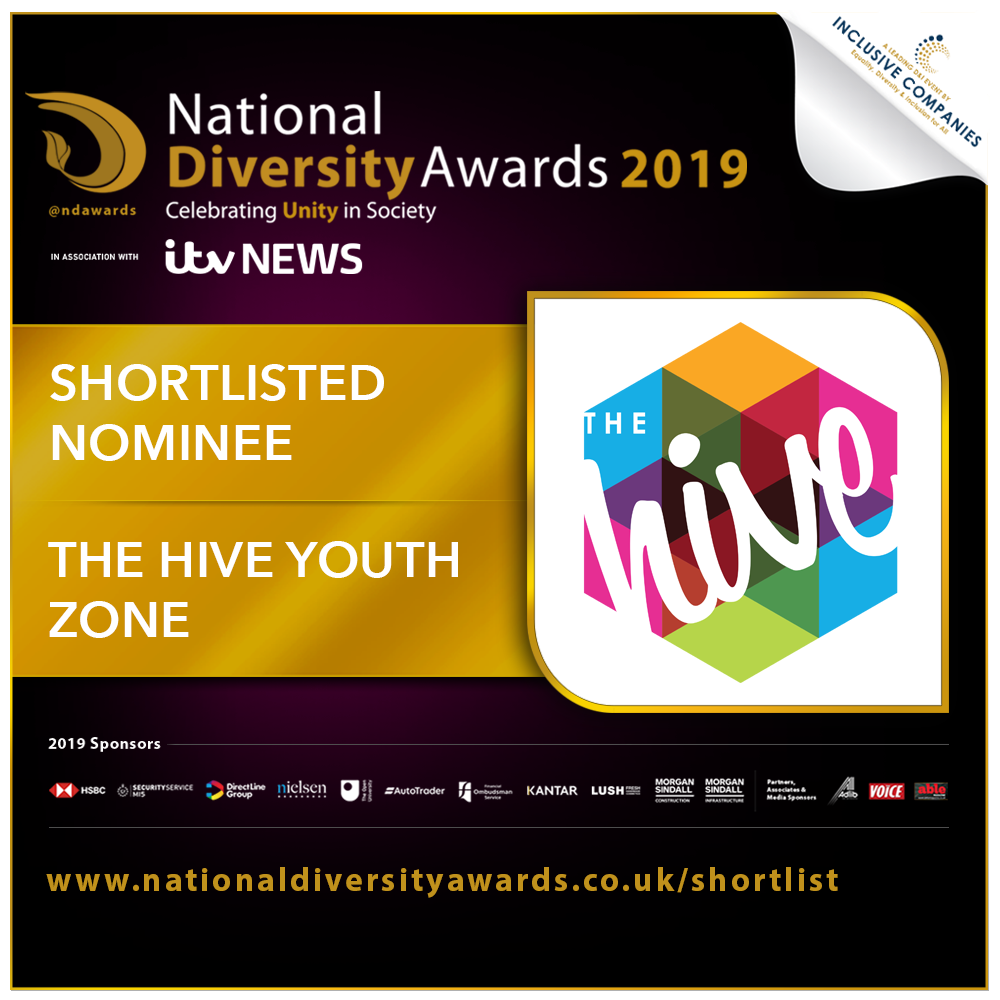 The Hive Youth Zone has been shortlisted for the UK's Largest Diversity Awards
The Hive Youth Zone, Wirral has been shortlisted for the
Community Organisation Award for Age at the National Diversity Awards (NDA) 2019.
The Hive Youth Zone are delighted to have been nominated for this award which recognises groups, charities and voluntary organisations that have made an outstanding contribution to their local community with diversity as their core.
Over 28,000 people were nominated this year with an astonishing 124 nominees being recognised for their various achievements nationwide and to have made the shortlist is a real achievement for the Youth Zone who pride themselves on putting young people at the heart of everything they do.
Adam Mellor, Chief Executive at The Hive said;
'We are so proud to have been nominated for this award that recognises our commitment to inclusion and diversity across our Youth Zone. Every week we provide 48 hours of open access youth work, alongside our employability and mentoring programmes. Across all of these sessions between 20% – 30% of young people attending have a disability or additional needand every Sunday our dedicated inclusion session welcomes young people along with their families to enjoy sport, art, music and fitness activities together.
This recognition is testament to our team and our volunteers who provide a safe and engaging environment for our members, working together to ensure that the needs of all are always considered with empathy and dignity and that no young person is left behind.'
Community organisations and role models from across the UK will head to the breath-taking Liverpool Anglican Cathedral on 20th September to witness the countries 2019 winners being crowned the best of British diversity. Amongst those being honoured are a reformed gangster, a Junior Bake-Off Star and a host of campaigners and activists, all of whom work tirelessly to combat injustice and discrimination in very different ways.
Designed to highlight the country's most inspirational and selfless people, the NDA's continue to gain endorsements from high profile figures such as Stephen Fry, Sir Lenny Henry CBE and Graham Norton. Actress and comedian Sally Phillips will take centre stage on 20th September as the official host of this year's ceremony. Reflecting on the forthcoming celebrations, Sally said;
"I am delighted to be hosting the 2019 National Diversity Awards. Acknowledging and celebrating the hard work and stand out achievements of role models and community groups throughout the UK is a genuine honour for me. Having attended the Awards back in 2016, I experienced this fabulous ceremony firsthand and I cannot wait to be back this year celebrating the dedication and commitment of some of the UK's most luminous and exceptional people."
 Previous winners include actor Warwick Davis, footballs equality and inclusion organisation Kick It Out and freedom fighter Abbey Kiwanuka. Paul Sesay, Founder and CEO of the National Diversity Awards added;
"A record amount of nominations and votes were received this year, the most we have ever received. I know our judging panel had an incredibly difficult task of whittling down the nominees to create an outstanding shortlist.
"So many heartfelt testimonies really showcased how these people and organisations are having a profound impact on the lives of others, and I applaud them for their dedication to each specific cause. Congratulations to all of our shortlisted nominees, it is a privilege to recognise your bravery, resilience and courage and I am honoured to share this with the nation. I look forward to congratulating you in person in September".
To view the full list of nominees visit https://nationaldiversityawards.co.uk/shortlist/