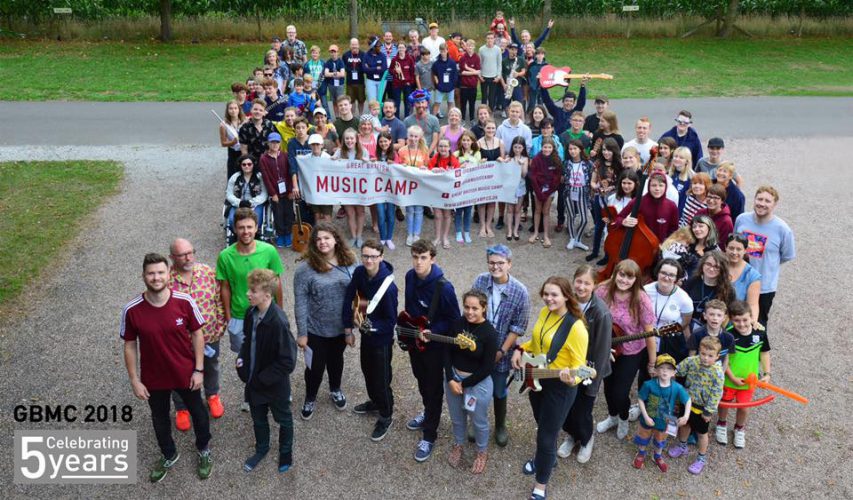 We have a fantastic opportunity for two of our members to apply for a space on this year's Great British Music Camp. If you're age 11 -17 and have an interest in improving your musical skills then this is for you!
The Camp aims to provide an inspirational and creative environment for one week each summer, during which talented young musicians can come together to create and perform music across all boundaries in a distraction-free environment.
Running from Sunday 11th August to Friday 17th August, the camp is located at Swettenham Heath, Congleton, Cheshire, CW12 2LR
Musicians will arrive Sunday afternoon, pitch their tents and get stuck into the music. On the first night, the tutors will put on a concert to set the tone for the week and give everyone a chance to get to know each other. Sessions begin on Monday morning. Each musician will take part in three different sessions based around their preferences, an orchestral ensemble that includes everyone on camp and various other one-off drama-based and fun activities throughout the week.
Sessions, concerts and masterclasses
SESSIONS
The sessions on offer typically include:
Funk & Soul, Strings, Rock & Pop, Folk & World, Woodwind, Brass, Beatboxing, Pianos, Guitars, Electronica, Accordions, Songwriting, Improvisation, Pop Choir, Samba, Big Band and Percussion. There will be plenty of opportunities to give your input throughout the week.
CONCERTS
All the music rehearsed in the scheduled sessions during the week will be performed in a full, professional show on the Saturday before everyone leaves. This will be a ticketed public event, with friends and family getting first choice on tickets.
In addition to this, there will be different concerts taking place for everyone on camp every night. These concerts are an opportunity for the musicians to perform whatever they like. This can be solo material they have learnt prior to coming to camp, such as grade pieces, or songs they have practiced or written.
A major aim of camp is to foster creativity, so we aim to provide as many opportunities as possible to work on original material. There will be time set aside during the week for this kind of creativity to take place, with all the necessary equipment, space, and tutors on hand.
MASTER CLASSES
There will be various master classes throughout the week that musicians can choose to attend. These will be instrument specific and will provide musicians with the opportunity to learn more about their chosen instrument, see it played to a virtuosic level and get valuable tips and advice from a professional musician. Although tutors will be available all day every day, the master classes serve as a good forum to get playing advice in a more formal setting. As an example, it is a chance for six or seven bass players to get together in a studio and talk constantly about slap bass, without boring the rest of the camp!
A place on the camp usually costs £310.00 per person but Hive members can apply for a space for free! Just fill in the form below
For more information about the camp visit;
http://www.gbmusiccamp.co.uk/the-week/
If you have any questions please speak to Lizzie Watts, Arts Coordinator at The Hive.
Deadline for applications is Wednesday 19th June 9am