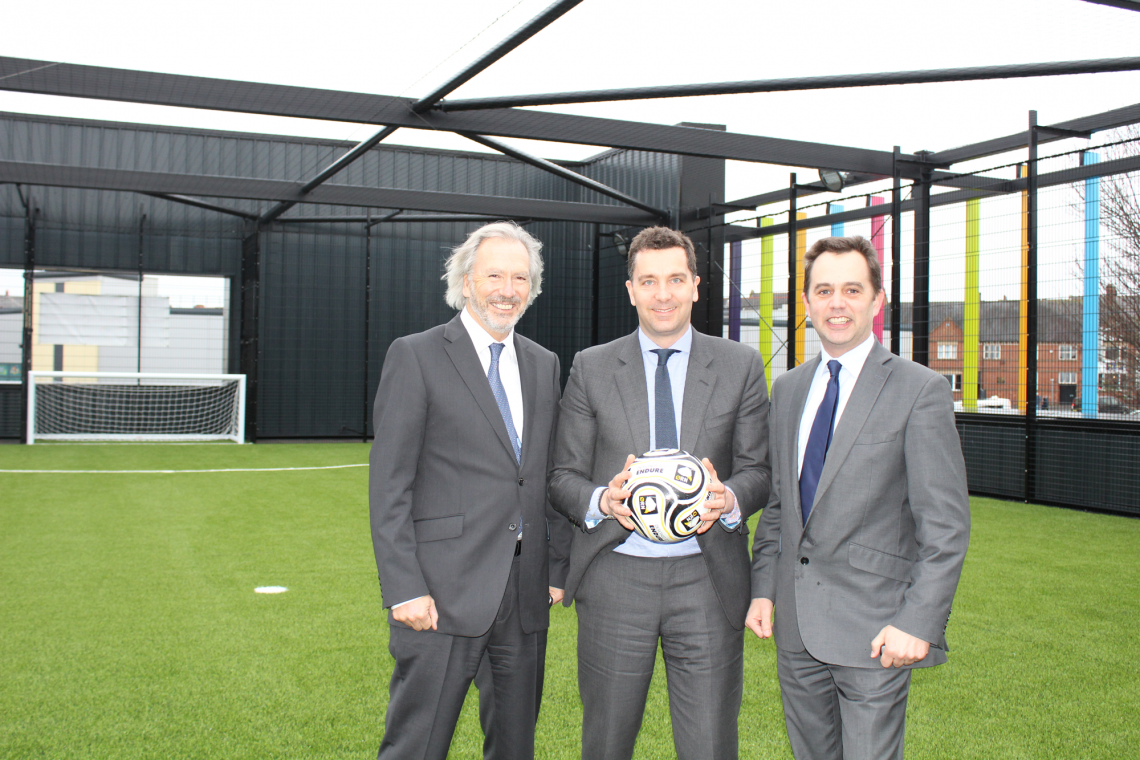 Edward Timpson MP – Minister of State for Vulnerable Children and Families at Department for Education – toured 'The Hive', Wirral Youth Zone last week, seeing first-hand what the £6m Youth Zone will offer young people in the borough when it officially opens on April 8th.
Mr Timpson experienced the life changing impact Youth Zones have on young people that access them from supporting mental health, reducing anti-social behaviour levels in the areas where the Youth Zones exist, to the increased, positive and healthy activity amongst young people.
OnSide, the national young people's charity currently has a network of eight operational facilities in; Manchester, Bolton, Oldham, Blackburn, Wigan and Carlisle, Wolverhampton and Warrington. With Wirral set to open next month and Chorley within the next 12 months, there are also a further eight at various stages of planning. 
The Hive, Wirral Youth Zone, cost £6m to build and will cost £1million per year to run. 

A unique partnership spearheaded by Wirral Council, the local private sector, young people and the community forms a dynamic four-way, inter-connecting relationship, which will ensure the success of the OnSide Youth Zone.
The building is now virtually complete, bar a few final interior elements set to be fitted with the grand opening now less than three weeks away.
Minister for Vulnerable Children and Families Edward Timpson said: "

Growing up in today's world can bring all sorts of challenges, which is why the government is investing £1.4bn into transforming the mental health support available around the country.

 

"I was delighted to visit The Hive and see the hard work that's gone into making such a special venue available to young people in Wirral. Places like this are vital for boosting their emotional and physical well-being by giving them a safe space to spend time."

Commenting on the visit, Bill Holroyd CBE DL, Chairman at OnSide Youth Zones said: 

"I am sure Mr Timpson would have been bowled over by his visit to Merseyside's first Youth Zone, Wirral Youth Zone and like our other facilities, it will do an outstanding job of supporting young people across the area.

"As a country we need to be doing more to protect and nourish the futures of our young people and Youth Zones offer an ideal solution to achieve this. The dynamic partnership created between the public and private sector, young people and the community all working together to drive the success, is key to ensuring that opportunities for young people are of the highest quality and of course sustainable."
The Hive consists of a

 four-court sports hall, climbing wall, skate park, 3G football pitch, dance studio, cooking facilities, arts and craft areas, music room, media room, radio studio and employability and mentoring opportunities. It will offer up to 20 activities per evening and will help raise the aspirations, improve the health and well-being and enhance the prospects of an anticipated membership of over 3,000 young people across Wirral.
Volunteers will be crucial in the success of the Youth Zone. The Hive needs to recruit 100 dedicated members of the community to make sure it delivers the best service for Wirral's young people. Contact Volunteer and Training Manager Sam Curley on: sam.curley@thehiveyouthzone.org.