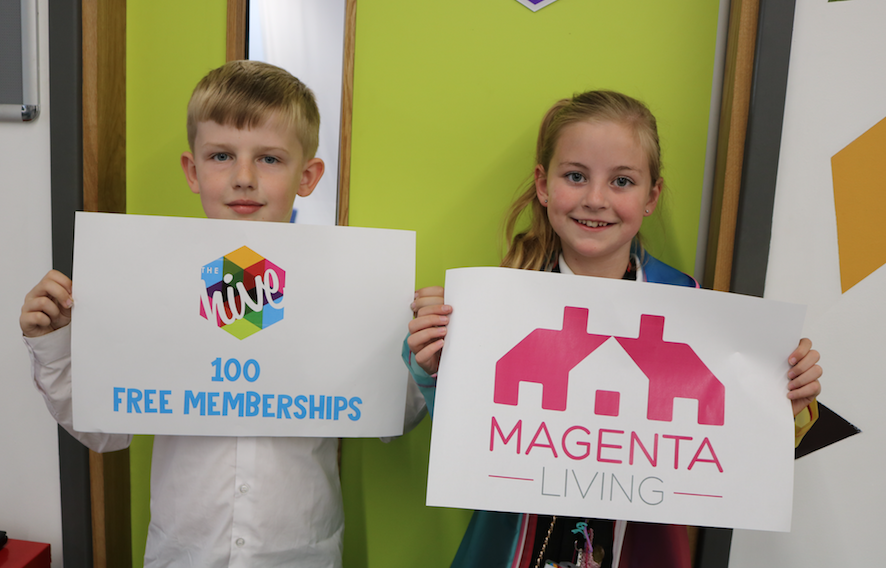 Magenta Living and The Hive, Wirral's state-of-the-art youth facility, are joining forces to reach out to young people across Wirral and introduce them to the benefits of being a Youth Zone member. 
Working in partnership, The Hive Youth Zone and Magenta Living have 100 free membership places which are being made available to young Magenta Living tenants, who will be able to enjoy The Hive's broad programme of activities and fantastic range of facilities.
Created to provide young people with somewhere to go, something to do and someone to talk to, The Hive is focused on raising aspirations, improving health and well-being, enhancing prospects, and increasing confidence. It currently has over 3000 members and is designed for young people between the ages of 8-19 (8-12 Junior and 13-19 Senior) or up to age 25 for those with a disability.
Facilities at the Youth Zone include a dance and performing arts studio, a recording studio and a radio station, along with a creative art and fashion room, a multimedia suite and a fully equipped salon. For sports activities, The Hive also boasts a skate park, a rooftop pitch and a climbing wall, as well as a four-court sports hall, fitness gym and boxing ring.
The Hive's recreational activities are complemented by projects and courses on employability and enterprise, along with mentoring projects, and the facility also offers significant support and opportunity for disabled young people.
Adam Mellor, Hive Chief Executive said,
''Like Magenta Living, we are committed to helping Wirral communities thrive. We do this by providing a safe, engaging and inspirational place for young people from across the borough to come and enjoy new experiences and broaden their horizons.  Partnering with Magenta Living enables us to reach out to even more families and young people, ensuring they have access to The Hive and all of the fantastic benefits on offer here.''
To claim your free membership just come along and speak to The Hive reception team, or give them a call on 0151 705 8000