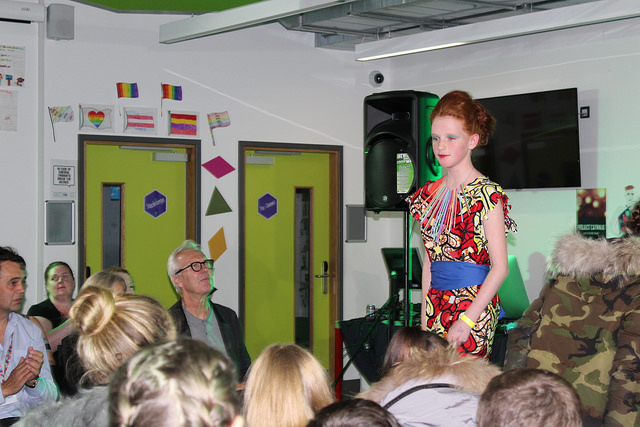 On Friday 22nd  September we held our first Hive fashion show, celebrating the creativity and diversity of our members with an evening of dance, fashion and music.
Our rec. area was transformed, with a catwalk and DJ – ready for our members to take to the stage and showcase their talents.
Supported backstage by Rebecca, Tanisha and Jade from Andrew Collinge Graduates, young people from across our Junior, Senior and Hiveability session where transformed into models with hair and make-up looks designed to complement fantastic fashion creations – themed across time from 60's Punk to modern day Manga.
Planning for the show began at the start of the Summer Holidays, as our weekly 'Sewing Bee' workshop grew from a small session to become a packed-out room of young people creating rails of clothing, from twenties-inspired dresses to robot costumes!
Led by Jennifer Chamberlain, Hive Arts Coordinator, and Georgina Davy,Fashion Session Worker, the concept for the show was 'Fashion through the ages'. Hive members and volunteers where involved in every aspect of the show, from choreography, make-up, music and lighting.
''From idea to design, construction to showcase, the young people involved in the 2017 catwalk have shown inspiring commitment and dedication. In a technology fuelled age, these young people have discovered the rewarding nature of turning back to a craft, investing their time in individual and highly personal fashion, costume and dressmaking projects. Engaging with such practical skills at a time in their lives when they are looking closely at their own identities, has enabled them a confidence to express themselves creatively through clothing. The catwalk event empowered every young person involved and to guide them through this experience was incredibly humbling.''
Georgina Davy, Fashion Session Worker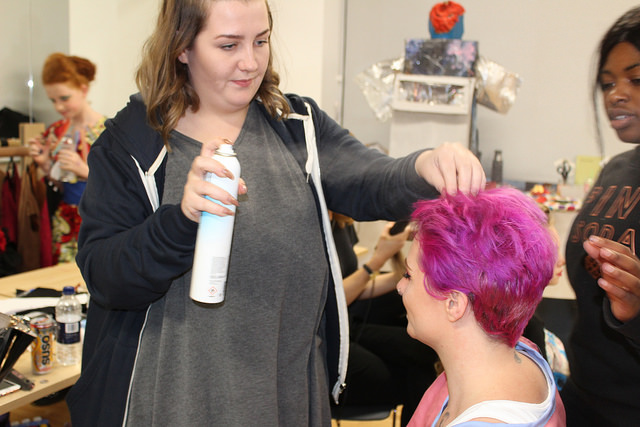 We were delighted to welcome Andrew & Liz Collinge to the event – as Founder Patrons and supporters of The Hive, and Peter Bibby, Founder Patron and Board Member who kindly donated much of the fabric used by our members. We also invited parents of the Young People taking part in the show, which all created a fantastic atmosphere around our catwalk!