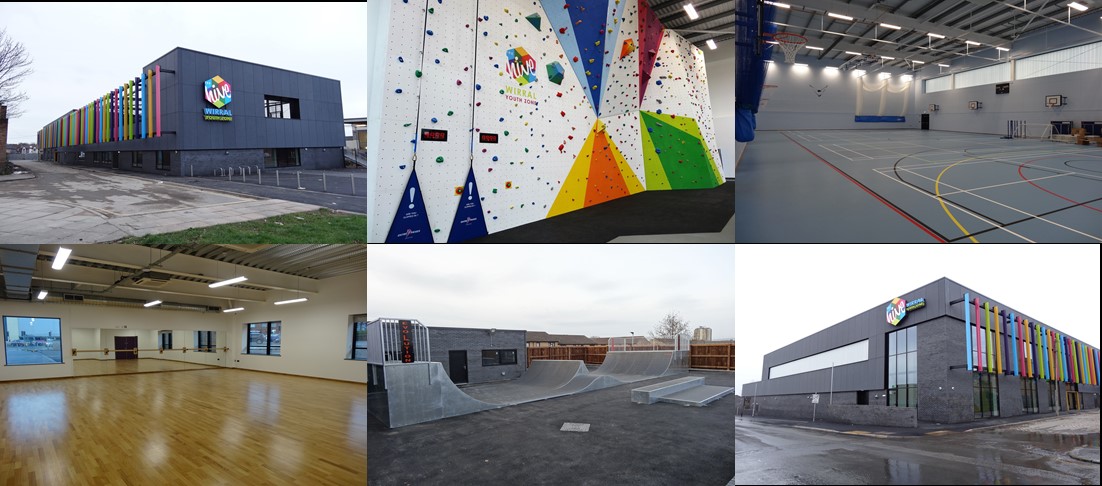 Youth Zone interior shots
High tech equipment is starting to arrive at The Hive Youth Zone this week with more to follow ahead of our opening date on April 8th 2017 after our contractors H.H Smith & Sons officially complete building work on Wirral's new Youth Zone.
With less than 50 days to go until the opening weekend, the exterior elements of the Youth Zone including the newly installed skate park, is now complete with interior fitting out now well underway.
You will have seen our fantastic climbing wall fitted and the gym equipment, supplied by Pulse Fitness, has recently arrived as has much of the office furniture and chairs. The boxing ring is set to arrive in the coming weeks as is many of the sofa's, pool tables, desktop computers and lots more.
The Hive Youth Zone's Young People's Development Group has recently been working with OnSide Youth Zones Senior Development Surveyors and professional designers to put some of their fresh and exciting ideas into practice from artwork on the walls, to colours of their furniture to ensure The Hive is 'buzzing' with life in the weeks leading up to opening.
Click on the image below to check out the latest shots.
To make The Hive a reality, it needs to recruit 100 dedicated members of the community to make sure they deliver the best service for Wirral's young people. If you have a passion for working with young people or simply want to give a little back by helping out in an admin or kitchen role for example, The Hive want to hear from you, contact Volunteer and Training Manager Sam Curley on: sam.curley@thehiveyouthzone.org.
Membership for young people costs £5 per year meaning they will then have to pay just 50p per evening. For more information or to sign up as a member visit www.thehiveyouthzone.org/new-member