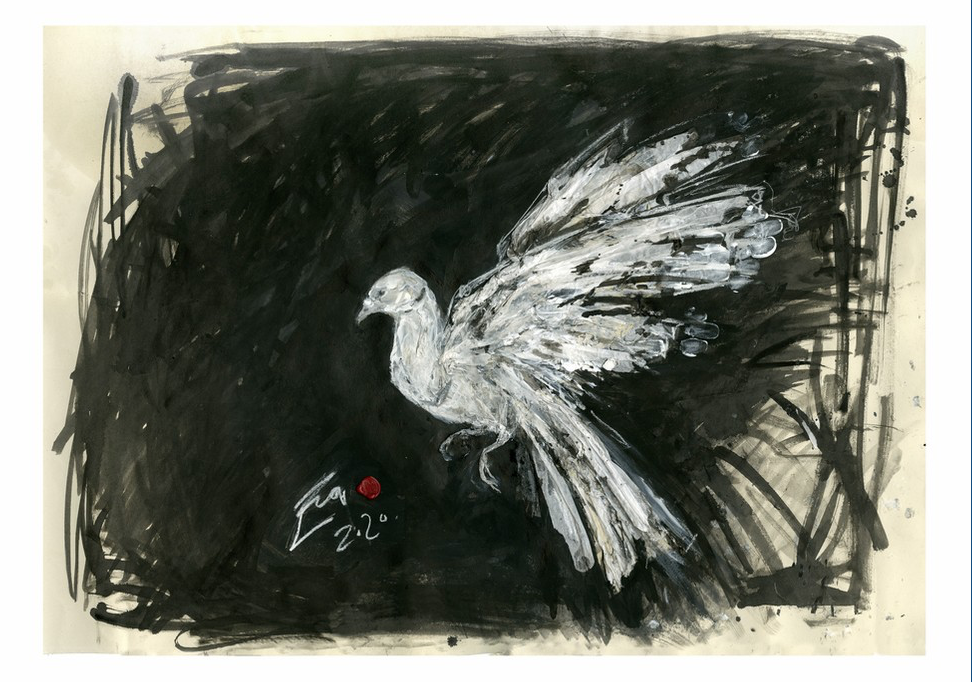 A national emergency appeal to raise £100,000 for national and local charities has been launched. The appeal is supporting The Hive Youth Zone in Birkenhead, who as part of their work supports young people experiencing mental health issues, and Mind. Every donor will receive a thank-you gift of art from leading British artists.
The #CreateArt4Hope' appeal organised by The Visual Artists Association, will help the charities in delivering vital front-line services in response to the Covid-19 crisis.
Everyone who donates to the appeal no matter how small will receive a curated collection of four A3 size limited edition prints worth hundreds of pounds generously gifted by four award-winning artists' including international sculptor Emma Rodgers; London based illustrator' Carne Griffiths; Scottish fine landscape artist, Michael Batey; and contemporary animal painter, Tammy Walters.
Laura O'Hare, Director of the Appeal commented "It is a mental health emergency and artists want to support the nation in the effort to fight this pandemic. The #CreateArt4Hope appeal makes art accessible to all, given the financial hardship some are facing. The gifted artwork worth hundreds of pounds, is an inspiring and rare collection symbolising hope and peace".
She explains "Throughout the pandemic, art has played an important role in supporting the nation's mental health. There have been a number viral art initiatives including the Rainbow Appeal, Portraits for NHS, as well as an upsurge in people taking online art courses. A recent survey of our artists members showed that over 70% had either delivered or viewed online art demonstrations and classes during the crisis, which demonstrates the role art is playing. As part of the  #CreateArt4Hope Appeal thousands of artists have come together to share their artwork across social media platforms, to create art that raises hope and highlights beauty in these uncertain times. This appeal is a way to thank you for your donations to support mental health services during the crisis."
Stuart Barnes, Chief Executive of The Hive Youth Zone said" Mental health is one the biggest issues we encounter at The Hive. Some of our young people are amongst the most vulnerable in society who face incredible challenges, never more so than now. For many their home where they are now isolated is not a safe place. Donations received through the Create Art 4 Hope appeal will enable us to do even more to support the mental health of our young people.  We need to make sure we are able to not only monitor known mental health issues which may be increasing under the lock down restrictions, but also identify concerns at an early stage to avoid escalation".
Speaking about the appeal, award-winning artist Emma Rodgers commented "When I heard about this project I wanted to help the cause and show support to those who are finding things particularly difficult in these current times, as it is so important to look after our mental health as well as physical health. I felt compelled to create this artwork and specifically to raise much needed funds for Mind.  'Rise Up – The Dove, a symbol of peace and hope seemed the perfect subject,  as it lifts in flight, the traces of its wing movements are created by clapping hands, lifting the Dove, and indeed our hope in together overcoming Covid-19.
Emma Rodgers is a UK-based International artist who with works are held in several major collections including National Museums and Galleries and featured in R.A., V&A, Saatchi and leading private collections.
To receive the free artwork collection, make a charitable donation via the fundraising page on www.createart4hope.co.uk Postage of £4.99 to receive the artwork is paid separately. The limited edition art collection comes with a stamp and certificate of authenticity.  Organisers are planning to release a 2nd collection of artwork at a later date.  Further details are available online at www.createart4hope.co.uk

#CreateArt4Hope Set of Prints:
'Rise Up – The Dove' by Emma Rogers
'Solidarity' by Tammy Walters
'Spring Thaw' by Michael Batey
'Peace' by Carne Griffiths
Notes:
To receive the free artwork collection, the public are invited to make a charitable donation via the fundraising page on createart4hope.co.uk you will need to pay for postage and packaging of £4.99 separately.
Only one application for artwork per person.
Artwork not for general resale.
Full terms and conditions are online at createart4hope.co.uk